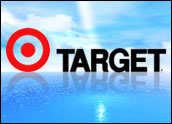 Target's website traffic hit a wall when a record number of shoppers showed up in search of Cyber Monday bargains.
Having offered a 15 percent discount for any purchase made through the site, Target began to experience problems shortly after 10 a.m. It then placed customers in a virtual queue that effectively held their place in line so they would not lose their purchase orders after refreshing their page.
The company posted an apology to customers on its Twitter page, noting that traffic was twice as heavy as its busiest single prior day, which reportedly was Thanksgiving. The Twitter statement advised customers to refresh their Web pages.
Target has been updating its site frequently to let customers know the website's status.
A number of other companies also experienced outages and a variety of tech disruptions during the holiday sales rush.
PayPal Down
PayPal crashed on Cyber Monday, leaving customers unable to complete purchases.
"Earlier today, PayPal experienced a brief, intermittent interruption in our service," a spokesperson said in statement provided to the E-Commerce Times by Courtney Mundell. "We have resolved the issue and customers can pay with PayPal on Cyber Monday."
Neiman Marcus suffered a major outage on Black Friday, followed by intermittent outages on Saturday into early Sunday, and finally stabilized at 5:30 a.m., said Frank Cioffi, a spokesperson for Catchpoint.
Neiman Marcus extended a 33 percent discount into Saturday after apologizing on its Twitter page for the outages. It also launched its Cyber Monday sale early Sunday to bring back customers it may have lost due to the glitchesf.
Victoria's Secret was hit by regional outages on Saturday and Sunday, Cioffi told the E-Commerce Times, with the most significant running from 11 p.m. Saturday through 6 a.m. on Sunday.
Part of the Process
The disruptions came at a critical time for online retailers.
More than 121 million people planned to shop online on Cyber Monday, according to the National Retail Federation. That figure actually was down from 126.9 million a year earlier.
However, about 103 million people shopped online over the Thanksgiving Day weekend, indicating a growing shift in consumer spending from brick-and-mortar stores to the Web, the NRF found.
The survey, which polled 4,281 people on Nov. 27 and 28, was conducted by Prosper Insights & Analytics on behalf of the NRF. It had a plus or minus margin of error of 1.5 percent.
"Websites and Web apps, especially shopping carts, are some of the most complex Web code ever written, and there are only a few companies worth billions who can get it right," said Ian Trump, security lead at LogicNow.
"This is a huge cloud play and a lesson learned," he told the E-Commerce Times.
It's unlikely that Monday's disruption will have a huge impact on holiday sales for Target, said Charles King, principal analyst at Pund-IT.
Nor will the less-publicized incidents involving Neiman Marcus and Victoria's Secret have much of a lasting impact, he added.
"While the situation is embarrassing, online transactions account for a small percentage of overall annual sales at brick and mortar stores," King told the E-Commerce Times. "In fact, given the evolving demand for online and mobile purchasing, I expect we'll continue to see issues like this crop up in future Cyber Monday events."