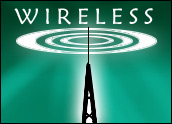 At this year's South by Southwest Conferences and Festivals in Austin, Texas, more than 150,000 new people have entered the major wireless carriers' network space. Nearly every one of them has a phone for making voice calls or using the Web. How do wireless carriers handle such a demand surge?
That's one of the big challenges facing AT&T Mobility, Verizon Wireless, Sprint and T-Mobile. Sometimes they can plan and prepare in advance — like for SXSW. Other times, things happen suddenly — a hurricane might strike, for example.
Roll Out the Super COW
AT&T prepared for SXSW. The company ramped up its capacity to handle more than 90,000 attendees, it said at the recent Mobile World Congress in Barcelona.
AT&T already had enormous capacity in the Austin area, but it doubled it by rolling out its big gun for the first time in Texas. That big gun is its Super COW, or Super Cell on Wheels — an innovative, sphere-shaped Luneberg Lens developed by AT&T engineers.
The Super COW is a 12-beam antenna providing 10 times the capacity of a traditional single-beam antenna. It sends radio frequencies in various directions, based on how AT&T network engineers set it up, for more efficient cellular usage.
In addition to the Luneberg Lens, AT&T has deployed two traditional-sized COWS in downtown Austin, expanding capacity through rooftop antennas and the deployment of a distributed antenna system, or DAS, at the Austin Convention Center.
AT&T also expanded its WiFi footprint beyond the permanent WiFi Hot Zone along 6th Street to various areas in the conference and festival areas.
Add a COLT and a COW
Verizon basically tripled its existing capacity in the Austin area.
It added its XLTE technology to each of the cell sites serving downtown Austin and the convention center area. It also rolled out a COLT with XLTE technology. Verizon's COLT is a portable cell site on a light truck.
Sprint also prepared by dramatically increasing its capacity in the area. It deployed its own COW to its network, enhancing its 1900 LTE, 800 LTE and 800 Voice capacity on 6th Street and Red River Street.
T-Mobile set up three temporary sites in downtown Austin to handle its additional network demand. It increased backhaul capacity in several downtown areas and modernized two sites inside the Austin Convention Center to deliver better LTE coverage.
Like Magic
Wireless is not just another technology. Wireless is the technology that keeps us connected to our world, for both voice and data. At a very basic level, network connectivity is key.
Without it, our smartphones are no better than paperweights. That's why it's so important for the major wireless carriers to be able to pull out their big guns as needed.
They can prepare in advance for large events, but we see carriers boosting capacity after natural disasters like hurricanes as well, when increased usage and damage to existing cell sites is common for days, weeks or even months.
Their activities go on in the background. We don't realize it, but that's how we stay connected. When we pick up our wireless devices, they just work.