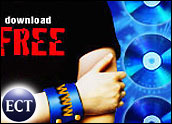 Sweden, long the home of Internet pirates, may not be a safe haven for them any more. The Swedish government is working on legislation that will force Internet service providers (ISPs) to disclose IP (Internet protocol) addresses used for illegal file-sharing to the legal owners of those rights.
However, the owners of the rights must get a court order and furnish proof supporting their allegations of infringement.
The proposal was put forth in an op-ed piece in the Swedish newspaper Svenska Dagbladet by Minister of Justice Beatrice Ask and Minister of Culture Lena Adelsohn Lilieroth.
By airing it, the government has turned down an alternative proposal by an appeals court judge who suggested ISPs shut down subscribers who repeatedly downloaded films and music illegally.
A Slice O' Pirate Heaven
If passed, the proposed legislation will be a dramatic change for Sweden, whose laws protect ISPs from being sued for anything passing through their networks.
Sweden is one of the most wired countries on the planet and has average broadband speeds up to five times faster than those in the U.S.
Its people have a history of opposition to what they consider bureaucratic laws. Sweden even has a pro-file-sharing lobby group, Piratbyrn.
After file-sharing site The Pirate Bay was shut down by a raid on a Swedish ISP connected to it, pro-Pirate Bay rallies throughout the country drew thousands of supporters.
Doing the Waltz
This is the latest move of a war between music industry giants and The Pirate Bay, which is facing lots of lawsuits. It draws more than 20 million users worldwide every month, who share new movies, games, TV shows and music.
In January, four people involved in The Pirate Bay — Hans Fredrik Neij, Per Svartholm Warg, Peter Kolmisoppi and Carl Lundstrm — were indicted on charges of being accessories to breaking copyright law.
In early February, a Danish court forced telecommunications carrier Tele2 Denmark to stop local Internet users from accessing Pirate Bay, following charges brought by the International Federation of the Phonographic Industry (IFPI), which represents the recording industry worldwide other than in the U.S.
Around mid-February, Prince and the Village People announced they would sue The Pirate Bay for letting users download their songs without permission — if they could figure out whom to sue. Their lawyer, Lars Sandberg, was hired on behalf of the musicians by British law firm Web Sheriff, which claims to be "Europe's leading Internet policing specialist."
When MediaDefender, which protects the entertainment industry online, began hacking into The Pirate Bay's systems, The Pirate Bay filed a complaint with the Swedish police.
The Entertainment Industry
IFPI was involved in the charges brought against The Pirate Bay in January. "IFPI Sweden was involved in helping to gather evidence against The Pirate Bay in Sweden and bringing it to the attention of the public prosecutor there. He in turn is bringing a case against them," IFPI spokesperson Alex Jacob told the E-Commerce Times.
IFPI Denmark asked the courts in that country to order an ISP to block access to The Pirate Bay "because of the mass of copyright infringing content it made available," he said.
While European law does provide protection for intellectual property rights, The Pirate Bay "has been able to flout that law for a long time," Jacob pointed out, adding that the site has "facilitated access to copyright infringing music, films, television programs, games and even books … on a global basis."
The court case in Sweden based on the January charges "should hopefully see the end of The Pirate Bay's facilitation of mass copyright infringement," Jacob said.
Not necessarily: The Pirate Bay will survive the trial even in the event of a guilty verdict, pro-file-sharing group Piratbyrn's spokesperson Magnus Eriksson said, pointing out that the site is established in several countries. He also expressed doubt that the defendants would be convicted.
The Way of the Dinosaur
Could the entertainment industry be fighting yesterday's war?
The recording industry made three major mistakes: Opposing the MP3 player market instead of developing it; fighting peer-to-peer sharing instead of competing with it; and pursuing digital rights management (DRM) instead of embracing an open standard, Forrester research analyst James McQuivey told the E-Commerce Times.
"Instead of supporting competing — and easier to use — schemes for delivering digital tracks to consumers like eMusic.com, the industry not only filed lawsuits against the systems like Napster and Aimster, but also eventually sank to suing its listeners," McQuivey said.
In fact, the Recording Industry Association of America last month sent out its 13th wave of pre-litigation settlement letters to people at 12 universities. These letters "cite individuals for online music theft via peer-to-peer services such as Ares, BitTorrent, Gnutella, Limewire and Morpheus," the RIAA said.
Recipients of the letters can settle out of court; more than 2,300 of the 5,003 recipients of previous letters have settled with the RIAA, and the association has filed suit against another 2,465.
"Because the industry spent all its time and energy preserving an increasingly irrelevant business model and pleasing its executives by publicly suing its customers, it failed to capitalize on the shift from analog to digital music," McQuivey said.
No Gain, Just Pain
The most obvious result of the music industry's efforts is that music shipments fell from US$14.6 billion in 1999 to a measly $9.7 billion in 2006, McQuivey said, adding that, while the cost of the war on file-sharing is primarily financial, it has also led to artists fleeing their labels and going independent.
"Madonna left Warner Music for a concert promoter; the Eagles partnered with Wal-Mart; Radiohead posted its music for download in MP3 format on its Web site, letting fans decide how much they want to pay for tracks," McQuivey said.
"This shows just how the economics of the industry have turned completely upside down."