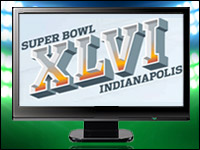 Superbowl Sunday, the biggest, flashiest U.S. sports event of the year, is also the country's biggest advertising event of the year, carrying some of the cleverest ads on TV.
This year, Superbowl Sunday may also mark a watershed in advertising, with advertisers reaching out beyond TV to go into digital media in a big way.
Adding digital ads to the advertising mix is a trend, Karsten Weide, a program vice president at IDC, told the E-Commerce Times. "Advertisers are doing this because in case study after case study, they find that if you have a marketing campaign across multiple channels, it's just more effective."
A week before the actual game, Honda put its Super Bowl ad on YouTube, where it garnered over 6 million views in its first five days.
TV "is just one conduit for what has become an increasingly large and diverse multi-channel information stream that companies feel they must fully leverage for maximum benefits," remarked Charles King, principal analyst at Pund-IT.
What Some Players Are Doing
You don't have to wait for the Super Bowl to see some of the biggest ads of the year. Days before the game has even started, companies like Honda and Audi have already posted their spots on channels like YouTube, drawing several million hits.
Pepsi-Cola will run a TV commercial featuring "X Factor USA" winner Melanie Amaro singing Otis Redding's "Respect" that consumers can download for free to their smartphones using the Shazam app.
Coca-Cola will run its well-known digital polar bears in TV ads on Superbowl Sunday in a push that will also leverage digital media. The bears will be on Twitter, Facebook and a dedicated website responding to fans and commenting on the game.
Info for Appdevs
The advertising shift during Superbowl Sunday has also drawn the attention of Flurry Analytics, which offers statistics on apps to developers.
Flurry will "have a team to measure the available audience during the Superbowl minute by minute Pacific time," company president and CEO Simon Khalaf told the E-Commerce Times.
"We'll look at what people did, the type of audience, how long did they spend watching the game, whether there's a behavioral difference between when the commercials are broadcast and when the game itself is on," Khalaf elaborated.
An Ad Won't Just Be an Ad
This year's Superbowl advertising campaigns bring to a head what's happening in the ad industry for a great deal of time.
Television advertising is going through three major changes, Shiv Singh, global head of digital for PepsiCo Beverages, wrote in the Harvard Business Review blog.
First, the value placed on ads will change as advertisers look to account for engagement metrics in the pricing because the digital experience will stretch out the brand experience beyond the 30-second TV clip, Singh contends.
Second, companies will begin thinking of ads as a trailer rather than as the whole story and will put out ads through multiple channels.
Third, location-aware technologies will change ads from being passive and impersonal to a format that encourages consumer engagement.
Social signals will heavily influence media planning decisions, and advertisers will place a premium on shows that have a high degree of engagement. Marketers will need to structure their plans for real-time digital participation, Singh suggested.
Evolve or Die
People who use personal devices such as tablets and smartphones while watching TV almost completely ignore the television commercials, Strategy Analytics has found.
Increasingly, people are using multiple screens — mobile devices and TV — simultaneously, Strategy Analytics said. Understanding when and how focus shifts between TV and personal devices occurs will be critical to delivering a superior multi-screen experience.
"Key performance indicators, such as brand liking, purchase trends and making recommendations to friends, all go up if you have cross-channel marketing," IDC's Weide said.
"Our forecasts say that in relative terms, spending on all traditional media will decline, while digital advertising will grow market share quite rapidly," Weide added.