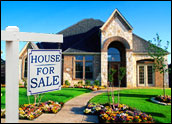 More and more mortgage shoppers are going online to find loans, but when it's time to seal the deal, most prefer to take their business offline, according to a study scheduled to be released Tuesday by Forrester Research and Compete Inc., both based in Boston.
Over the past two years, consumers researching mortgages online have increased 17 percent, according to the Forrester-Compete report, a copy of which was obtained by the E-Commerce Times, but that research is more often than not the precursor to an offline transaction.
While 37 percent of online prospects filled out an application or lead form on the Web, 27 percent of them applied for their mortgages over the phone and 34 percent went to a bricks-and-mortar location, the study revealed.
Human Touch Desirable
It noted that while online mortgage seekers use the Internet to educate themselves about processes and products, most want some kind of offline guidance before pulling the trigger on a decision. Some 52 percent of online researchers who chose an offline channel to apply for a mortgage told the Forrester-Compete researchers that they wanted human assistance to validate their decision.
"That human touch, that wanting to validate that decision is the number one reason why consumers don't apply for these products online," Forrester Senior Analyst Brad Strothkamp told the E-Commerce Times.
Intricacy, too, is another reason why consumers need some hand-holding when culminating their mortgage search, according to Frank Destra, senior vice president for national sales for ditech.com in Santa Ana, Calif.
"The mortgage process, in and of itself, is complex, and consumers want to talk to a live person to help guide them through that process," he told the E-Commerce Times. "But as lenders enhance their online functionality that need to contact a live person will diminish."
Rates, Fees Top Needs
Two of the most important pieces of information for online mortgage seekers are rates and fees, the study said. More than 75 percent of the survey's 283 respondents said they were going online to look for rates and fees.
"Rates and fees are the first thing that people know to ask for, but what they really want is someone whose going to listen to them and uncover their goals and their needs," Bryan Stapp, chief marketing officer forQuicken Loans in Livonia, Mich., told the E-Commerce Times.
"Everyone is looking for a mortgage for a specific reason," he continued. "You need an experienced mortgage expert who's going to understand and help put a client into the right loan for them."
Aggregators Attract Most Prospects
The Forrester-Compete report also revealed that online aggregators — outfits like LendingTree, LowerMyBills and NexTag — are attracting most of the online mortgage prospects to their sites.
Aggregators don't lend money. They provide a connection between the consumer and someone who does it.
According to the study, aggregators are attracting some 71 percent of all online mortgage prospects and 75 percent of all applicants or leads.
"Aggregators do the best job of converting prospects into leads," Forrester's Strothkamp asserted. "They are the most popular, with LendingTree leading the way. It has done a ton of advertising and really built up a brand awareness."
Strong Tagline
"It's shown itself to be an unbiased source," he added. "'Banks compete, you win' is a pretty strong tagline that really attracts consumers."
Although the study showed that LowerMyBills attracted the greatest portion of online mortgage prospectors to its site, 37.2 percent, LendingTree, with a 15.8 percent prospect share, led all aggregators in prospects converted into a lead or applicant, with 32.7 percent., compared to 32.6 percent for LowerMyBills.
Another aspect of the online mortgage experience eyed by the researchers was the use of on-site tools by consumers.
"There are at least a dozen types of tools and calculators for mortgages, but the highest usage comes from just a handful," the report said. "A payment calculator, an affordability calculator, and a loan selection tool are must-haves for a mortgage site.
"But how these tools and calculators are offered is just as important," the researchers added. "Follow the lead of LendingTree and Quicken Loans: Expose key tools on high-level pages and use them to drive prospects deeper into the site."