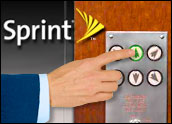 Sprint Chairman Masayoshi Son reportedly was scheduled to meet with the United States Federal Communications Commission on Monday to discuss a possible purchase of T-Mobile, although the U.S. Department of Justice already has signaled its opposition.
Both U.S. government bodies would have to approve of a merger, but they would view it from different perspectives.
Son is CEO of Japan's Softbank, which purchased 78 percent of Sprint last July. At around the same time, Sprint bought the shares of Clearwire that it didn't already own.
Sprint's purchase of T-Mobile therefore could be seen as giving Softbank control of a large swath of U.S. wireless spectrum, which could be a major concern for regulatory authorities.
"Many in Washington would not feel very comfortable about placing more spectrum in the hands of a single foreign-owned entity," Ronald Gruia, director of emerging telecoms at Frost & Sullivan, told the E-Commerce Times.
Warning Signals From DoJ
Son's discussions with the DoJ did not go well, judging from reports that followed.
Consumers have enjoyed much more favorable competitive conditions since the DoJ's 2011 block of a proposed merger between AT&T and T-Mobile, William J. Baer, assistant attorney general for the DoJ's antitrust division, told The New York Times.
The DoJ's antitrust division often has found compelling evidence in internal company documents suggestive of anticompetitive behavior among companies proposing to merge, Deputy Assistant Attorney General Renata B. Hesse told a Silicon Valley audience last month.
AT&T's proposed merger with T-Mobile fell through after the DoJ filed suit, although the plan had support from groups including the National Association for the Advancement of Colored People, the Communications Workers of America, and the American Federation of Labor and Congress of Industrial Organizations.
"AT&T got support from the unions, had a huge lobbying budget, a strong M&A background, and had one of the best regulatory teams in the sector, but they could not overcome the public interest test. Having only two large and one small players after the merger would be against the public interest," remarked Frost's Gruia.
Arguments for the Purchase
Sprint and T-Mobile are the two smaller players in the four-carrier U.S. wireless market, and "individually, Sprint and T-Mobile have had difficulties competing with the larger carriers," Todd Day, mobile and wireless senior industry analyst at Frost & Sullivan, told the E-Commerce Times.
If the two combined, they would account for 28.4 percent of the market, and they would have the assets, the customer base, and the network infrastructure to compete head-to-head with the two larger carriers, Day contended.
Tech Issues are Minor
Technology issues can be overcome, noted Jagdish Rebello, director of communications and electronics at IHS iSuppli.
"Having two carriers with different technologies with different spectrum bands might be a challenge," Rebello told the E-Commerce Times. "You've got a CDMA operator trying to merge with a GSM operator."
In the longer term, however, this problem will be resolved through widespread adoption of LTE.
Arguments Against the Deal
Foreign ownership of U.S. spectrum is one argument, but there are others.
"Large mergers are very difficult to execute and extract value from," Rich Karpinski, senior analyst at the Yankee Group, told the E-Commerce Times. The argument that Sprint and T-Mobile won't be able to survive on their own "won't necessarily create confidence that they will successfully be able to execute a complex merger together."
Further, the FCC previously had sold spectrum at a discount to T-Mobile and Sprint because they were smaller carriers, and the discounts would boost competition, Frost's Gruia pointed out.
"How can the U.S. government support a merger to facilitate competition," he wondered, "when it has said it's worth sacrificing taxpayer revenue to give special privileges to Sprint and T-Mobile to preserve competition?"