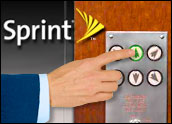 It's official. Sprint Nextel and Softbank are getting together. If the deal is approved, Softbank will own 70 percent of Sprint Nextel. That means this is not really an acquisition. Rather it is an investment. However, as a majority owner you can expect Softbank to steer the Sprint ship. That could be great news for the No. 3 U.S. wireless player. We can expect some changes going forward.
I have been following Sprint for decades. This is great news for Sprint Nextel and for Softbank. Sprint has been struggling in a weak third place. It started when Sprint was a long-distance company and continued when it got into wireless. This could give Sprint the financial backing it needs to grow more rapidly.
Softbank wants this deal because Japan's wireless marketplace has already matured and is now slowing, while the U.S. marketplace is still growing rapidly on the wireless data side. Growth in wireless is not about voice — it's about wireless data.
This is a risk for Softbank as it will go into debt to invest in Sprint. Also, Sprint has never been a rapidly growing company. Can Softbank shake things up in Kansas City? Perhaps.
Sprint Surge Ahead?
First, this deal has to be approved. It would be tough enough if it were two U.S. firms merging. This is a Japanese company merging with a U.S. firm. That is much more difficult. Regulators have to be concerned with more issues — like national security. So we'll have to watch and see.
Assuming this deal is approved, it will happen later next year in 2013.
I don't expect to see any rapid changes to Sprint Nextel for customers. The company will remain the same for a while. However, this will allow Sprint to more rapidly build out its LTE footprint over the next few years. That will be very helpful to its growth trajectory.
I do see this partnership giving Sprint the financial power it needs — not only to invest in its network speeds, but also to compete more successfully against AT&T and Verizon.
Look at the U.S. wireless marketplace. Some companies are growing and doing strong business, while others are not. AT&T and Verizon are on the strong growth side of the wave. Sprint Nextel and T-Mobile have been on the weak side of the same wave.
This could give Sprint the ability to start growing rapidly like AT&T and Verizon. That's the good part of this story for Sprint.
Why hasn't Sprint grown over the years? CEO Dan Hesse brought deals to the board of directors, but after being burned by the Nextel merger, they basically said no.
When Sprint acquired Nextel, the deal made sense — but that was right when the wireless marketplace started to change from being a voice business to becoming a wireless data business, with Apple launching the iPhone and Google introducing the Android OS.
Faster Speed vs. Unlimited Data
Softbank wants Sprint because of the growth potential in wireless data services.
That means Sprint will have to invest in and more rapidly bring its network up to AT&T and Verizon speeds. That is not an overnight issue. It will take time.
Today, AT&T and Verizon have 4G LTE in many more markets than Sprint does. So that's why Sprint uses its unlimited plans to attract customers. The marketplace is split into two groups: those who want speed and those who want unlimited wireless data.
If Sprint can more rapidly invest in and increase the speed of its network to match AT&T and Verizon more closely, will that mean it will eliminate its unlimited plans?
As for Softbank, Chairman and CEO Masayoshi Son sees this as an excellent opportunity for Softbank to leverage its expertise in smartphones and next-generation high speed networks, including LTE, to drive the mobile Internet revolution in one of the world's largest markets.
So as you can see, this is big news, but there are still so many questions.
If the deal closes, it will give Softbank a solid entry into the U.S. wireless market.
Then it's just a question of whether it can invest in the network and use advertising and marketing and public relations to turn Sprint around. The potential is there.
For Sprint, one thing is certain right now: The world looks much brighter than it did just a few short days ago. This announcement is good news for Sprint customers, workers, investors and partners. Let's hope for the best.