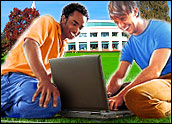 Marketers call them "the influentials," and in a world where word-of-mouth marketing is king, they're royalty. However, they may not be as monolithic a class as hucksters believe them to be, according to a report from JupiterResearch.
The "classic" influential is an early adopter with a drive to get the newest products first. Their expertise is well-known among their circle of friends and they're the "go-to guys" when it comes to advice for a purchasing decision.
Another class of buzz broker is emerging: the "new" influential.
Buzz Machines
"The new influentials have always existed — they're the busybodies of the world — but now they have so much more power because of these new Web tools to spread messages quickly," Emily Riley, author of the Jupiter analysis told the E-Commerce Times.
"The classic influential serves to drive friends and family to stores through recommendations," she explained. "The new influentials spread buzz, and they do so effectively."
Joseph Carrabis, chief research officer for Next Stage Evolution, a maker of online marketing tools in Nashua, N.H., compares the two kinds of influentials to the famous fictional detective team of Sherlock Holmes and Dr. John Watson.
Elementary, My Dear Influencer
He explained that classic influentials are like Holmes — recognized subject matter experts that you go to when you want to buy something.
Like a new influencer, a Holmes may have a blog, but his reach will be shorter. "What makes them influential is not who's linking to them or do they show up on Technorati," he told the E-Commerce Times, "but a reputation for good content."
The opinions of a Holmes are spread by their Watsons, he continued. "The new influencer is a Watson. They find their Holmes and tell everyone about him.
"The Watsons are the people who get the buzz out," he added. "The buzz doesn't come from the Holmes because all he's interested in is, 'Is this a neat thing, can I play with it, is it exciting?'"
Different Ends of the Funnel
It's important to understand this division between influencials because they exercise the majority of their power at different points in the marketing funnel, according to the Jupiter report, a copy of which was obtained by the E-Commerce Times.
"New influentials are important to create awareness at the beginning of a product launch or create buzz at the beginning of a viral campaign," Riley maintained.
The report noted that as the new influentials reach out to contacts through social media, their message spreads through those contacts to their own groups of contacts.
"This cycle mirrors the traditional word-of-mouth cycle, but [on] a much larger scale, due to social media tools such as networking sites, blogs and podcasts," the report explained. "Marketers therefore can rely on new influentials to be the brand awareness workhorses."
"When you get closer to the purchasing cycle, that's where the classic influentials become more important," Riley added.
Targeting Influentials
What can marketers do to reach these influential groups of consumers?
New influencers are partial to sweepstakes and exclusive content, Riley noted. "If you're a publisher and you want to attract new influentials, you can create a 'select' section to your site, as the New York Times does with its site," she suggested.
Classic influentials, she continued, are attracted to niche sites that cater to their area of expertise.
"They can be attracted to advertising messages through things like previews of new products, sneak peeks and one-night only events — anything that appeals to their desire to be the first in their circle to have a new gadget or game or clothing," she observed.
In addition to classic and new influentials, the report revealed that there is a segment that shares characteristics of both groups — so-called "combination" influentials — but they represent a small portion of the influential community.
Classic influentials make up 24 percent of all online users; new influentials, 17 percent; and combination influentials, 6 percent.