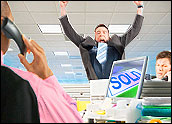 E-Commerce software is excellent. It allows the marketer to execute and record millions in annual sales. However, in the era of direct digital marketing — where a missed opportunity to close a sale is more conspicuous than ever before — online retailers are seeking a solution that accomplishes more than the expected sale.
If e-commerce software is able to secure sales of the "ripe fruit" — and some low-hanging fruit, on occasion — on-site targeting software is specially designed to capture the low-hanging fruit, and even the fruit that falls on the ground, gets overlooked, and is usually forgotten about. It is missed opportunities on these seemingly hard-to-get sales that are often the difference between merely reaching a sales goal and smashing it to the point where forecasts must be adjusted upward.
On-site targeting is a byproduct of direct digital marketing innovation. Marketers have identified holes in their e-commerce engines that allow sales to leak away, and on-site targeting is the means to plug the hole. More to the point, effective on-site targeting is the last piece of the puzzle needed to complete a winning e-commerce and direct digital marketing strategy.
On-Site Targeting Essentials
On-site targeting is a simple concept. Departing from the old model of a Web page with a single message prominently displayed, on-site targeting plugs into the existing Web page's framework. It transforms the formerly static space into a "live zone" that rotates dynamic, personalized and relevant content designed to appeal to all of a brand's diverse customer audience. Because online shoppers historically respond favorably to a direct digital marketing approach heavy on relevance, sales increase.
Two basics are necessary to get the most out of on-site targeting. First, the more available data an on-site targeting solution has — or can capture on its own — the better. A good on-site targeting solution leverages a variety of available data points, ranging from known customer attributes like enterprise customer data and past purchase history to key behavioral attributes like organic and paid search activity and email, mobile or other Web activity.
It is a huge advantage to have a variety of different data sources working together when building a segment. Personalization and relevance are only as good as the data supporting them. The ability to bring many disparate data sources together into an on-site targeting solution is the primary factor in making it such a powerful complement to an e-commerce engine. On-site targeting enables messages to reach highly targeted segments, influencing sales within very specific geographic and demographic groups, as well as small micro-segments. That is where you'll find the fruit that's most likely to fall off the tree and be lost.
The second basic essential to a good on-site targeting solution is the incorporation of built-in testing and optimization tools. Test early and often — then deploy the winning content to maximize each and every sale opportunity. Testing does not have to be complex. A simple test that measures the impact of different calls to action — or even the best color for the "Buy Now" button — can positively affect the bottom line. Once the test is complete, the right on-site targeting solution automatically deploys the winner to ensure the most effective content is always in market.
On-Site Targeting Impact
Another compelling positive trait of on-site targeting is the close relationship it maintains with its direct digital marketing cohorts: email and mobile. A multichannel approach is always effective when each channel reinforces the message communicated through the other channels. For example, one online retailer has used on-site targeting to discover that it was possible to increase sales on a new product by 25 percent. It set a content display rule in its on-site targeting solution that displayed new product content on its homepage only when the Web site visitor had opened the new product email. Synchronizing simple, readily available data points — like email opens with homepage content — is just one of thousands of different segmentation possibilities.
On-site targeting is a good addition to an e-commerce engine for a variety of reasons. E-commerce engines are great at executing many things, but they are not capable of the microtargeting and deep personalization that on-site targeting tools can deliver. Rather than forcing a marketer to consider the ugly possibility of replatforming its entire site to improve relevance, an on-site targeting solution boosts sales while avoiding the inevitable lag that occurs when changing e-commerce providers. On-site targeting revitalizes, rather than replatforms, a Web site. Making a wholesale change to an e-commerce engine on the promise of greater flexibility and relevance is time-consuming, inherently cumbersome, and extremely costly. On-site targeting is an efficient alternative.
While onsite targeting engages consumers and builds loyalty, its most important function — and the ultimate requirement for any software solution — is boosting sales and getting the previously missed conversions that keep marketers up at night. With the ability to bring together a variety of data sources, a good on-site targeting solution is able to uncover previously hidden segmentation opportunities that preserve and increase sales on legacy products and dramatically improve sales on new products.
Going a step further and synchronizing data from other direct digital marketing channels helps provide new insights into which customers or prospects may require extra incentive to purchase. The broader data picture an on-site targeting solution affords also gives marketers the flexibility to make changes to messaging and content on the fly, dramatically improving the relevance and timeliness of their direct digital marketing.
Perhaps the most significant benefit of on-site targeting is how easy it is to implement. Because it demands very little time and effort to integrate with an e-commerce engine, it decreases the initial cost of deployment and the long-term cost of maintenance. Most importantly, it is a feasible, cost-effective upgrade in Web site personalization and relevance that lifts key metrics like overall conversions and revenue per site visit — all at a fraction of the cost required to replatform.
In an uncertain but improving economy, getting the expected sale is not enough. On-site targeting — especially when used in tandem with other ongoing direct digital marketing tactics — promises to make the impact necessary to shatter old goals and set a new sales standard.
---
Brian Deagan
, a thought leader in direct digital marketing, is cofounder and CEO of
Knotice
, a direct digital marketing solutions company. Deagan can be reached at
[email protected]
. More information on Knotice is available at the company's
blog
.
---