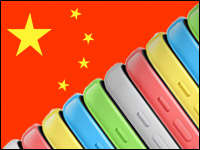 China experienced the first-ever downturn in its smartphone market in the second quarter of 2015, and it was enough to drag global sales to a two-year low, Gartner Research said Thursday.
The rest of the Asia Pacific smartphone market saw substantial growth in the quarter.
iOS snatched a tad of market share — about 2.4 percent — from the other mobile operating systems, and Samsung shared more of its handset stake with its rivals, according to the report.
China's Sway
China's smartphone sales fell by about 4 percent in the quarter, year over year, Gartner said.
The country's smartphone market has matured to the point that it's driven primarily by replacements, as opposed to first time buyers, according to Anshul Gupta, a Gartner research director.
"Slowing of growth in China will have a slight pulldown on the overall smartphone estimate we had at the beginning of this year, which was roughly around 1.25 billion [units sold]," he told the E-Commerce Times.
Gartner will adjust its forecasts to account for the downturn in China, but only slightly, as other Asia Pacific markets have been blossoming, Gupta pointed out.
"There are some good signs coming from markets like India, Indonesia and the Philippines, where smartphones sales have jumped by about 45 to 50 percent," he noted.
Although those markets are much smaller than China's, Gartner still sees overall smartphones sales crossing 1.25 billion this year due to their robust growth, Gupta said.
Disruptors Stay
China's smartphone market accounts for about 30 percent of the industry globally. While its slowdown has hit some hard — namely Samsung and Lenovo — China's homegrown talent and Apple have been elbowing in where their rivals once stood.
Apple and Samsung still have the lion's share of mobile business, and that doesn't look like it will change, said wireless analyst Jeff Kagan.
Samsung owned 21.9 percent of the worldwide smartphone market last quarter; Apple held about a 14.6 percent stake; and third place Huawei claimed roughly 7.8 percent.
"Today there are very few people who want a smartphone who don't have one," Kagan told the E-Commerce Times. "Now it's a matter of winning market share from competitors in order to grow,"
Samsung's and Lenovo's loss of share "benefited players like Huawei, ZTE and Xiaomi — Xiaomi not much, but Huawei has picked up a lot of share from these players," Gupta said. "Also, Huawei has been very strong, even at the global level."
It's important to note that Huawei and Xiaomi, which holds about 4.9 percent market share, have yet to hit the U.S. in force.
Huawei has a presence in the states and Xiaomi has none, though its name has begun to precede it. Both companies have positioned themselves to do well in the U.S., and that's due in large part to lessons learned from Apple, said Jason Chaikin, president ofVkansee.
"With the success of Asian smartphone brands Xiaomi and Huawei, it's a good bet that they will have a strong response from consumers in North America," he told the E-Commerce Times. "Both companies have learned the value taught by Apple: attractive prices with sleek designs, straight out of sci-fi movies, can be more important than actual features."
Apple's Way
Despite fears that Apple and the government of China would have a falling out that would hit the company's sales, the two entities have been working well enough together that iOS devices continue to coax users up into the premium tier, noted Gartner's Gupta.
The iPhone 6 series accounts for Apple's strong growth in China, he added.
"We were saying that it will be difficult for players like Apple to continue to grow their volume and market share," Gupta said, "but with the iPhone 6 and 6 Plus, they have successfully expanded that premium segment."
All of the brand loyalty Apple has been building just so happens to dovetail with the current structure of China's smartphone market.
There has been "a shift, wherein people are holding on a little longer in hopes of buying an iPhone," said Gupta, "and this is especially true in China, where Apple is building a large following."