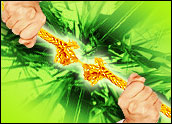 Sites like Wikipedia and Google have vowed to take new steps in opposing SOPA, the Stop Online Piracy Act, as the debate over the controversial proposed legislation continues.
SOPA seeks to give new powers to law enforcement and copyright holders to fight the illicit exchange of copyrighted content online. Critics say the bill would effectively cripple the Internet and threaten free speech.
Wikipedia has announced that it will black out its English-language site worldwide for 24 hours on Wednesday to show the effect SOPA could have on Web companies.
Reddit and Boing Boing will also black out their services Wednesday.
Further, Google has announced that it will put up a link on its homepage Wednesday that will highlight its opposition to SOPA.
On Tuesday afternoon, Scribd will be involved in a Congressional briefing on SOPA, company spokesperson Michelle Laird told the E-Commerce Times.
"Like others, we believe Congress wants to get this right, and we know there are targeted and smart ways to shut down foreign rogue websites without asking U.S. companies to censor the Internet," Google spokesperson Jenna Wandres told the E-Commerce Times.
Wikimedia did not respond to requests for comment for this story.
What's a SOPA?
SOPA's ostensible purpose is to clamp down on online copyright infringement. It would criminalize acts like the unauthorized streaming of copyrighted content with penalties involving up to five years in prison.
Under SOPA Internet services that voluntarily crack down on websites dedicated to infringement would get immunity, and any copyright holder who knowingly makes a false accusation that a website is dedicated to infringement would be liable for damages.
The House version of SOPA is Bill H.R. 3261, and the Senate version is Bill S. 968.
SOPA Enemies
SOPA has divided the high-tech industry, with many prominent members opposing it strongly and a few espousing its provisions. Many opponents of SOPA argue that its provisions are too sweeping.
"This is a draconian law that effectively circumvents due process, giving government and content owners too much control over content that may fall under free speech definitions," warned Rob Enderle, principal analyst at the Enderle Group.
Reaction from the online community, the high-tech industry and prominent high-tech experts to SOPA has been intense, with many speaking out against the bill over the past few months.
Some have shut down their websites briefly to show their opposition to SOPA, leading Google to put up a Web page telling webmasters how to take down a page properly as a means of protest.
The White House has also spoken out against SOPA.
On Tuesday afternoon, Scribd Cofounder Jared Freidman, Craigslist Founder Craig Newmark, Reddit Cofounder Alexis Ohanian and other tech figures will be involved in a congressional briefing on SOPA. You can click here to watch the online broadcast.
Grappling With SOPA
The outcry has led U.S. House of Representatives Judiciary Committee Chair Lamar Smith, who introduced SOPA in October in the House, to state he'll amend the domain name system blocking provision from the bill. U.S. Senator Patrick Leahy will follow suit with the Senate version.
Meanwhile, Rep. Darrell Issa and Senator Ron Wyden have jointly proposed an alternative, the Online Protection and Enforcement of Digital Trade Act.
It's unclear whether amending SOPA will save the bill.
"It's dead as dead can be," Philip Lieberman, president of Lieberman Software, told the E-Commerce Times. "Nobody's going to fight for the jobs in the entertainment industry versus the rest of technology."
On the other hand, "the lobbyists behind [SOPA] are very powerful and well-funded, so I doubt we've seen the last of it," Enderle argued.
SOPA has "become kryptonite in an election year," Enderle told the E-Commerce Times. "I think it's effectively dead until after the elections are over."