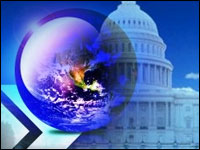 What is the best way to market cloud IT services to the federal government?
Any way you can.
U.S. government agencies share the same goal: Under a White House mandate, all agencies must give priority to cloud configurations for IT projects. With all agencies pursuing the same "cloud first" goal, marketing cloud services, it seems, should be fairly straightforward for cloud providers.
Almost two years into the program, however, it appears that federal agencies are pursuing cloud technology in various ways.
Government agencies at all levels — local, state and federal — are approaching cloud adoption differently, according to a recent survey by IDC Government Insights.
"The survey provides solid evidence that most levels of government are at least dipping a toe or two into cloud services, with the federal government clearly taking a more aggressive approach to cloud migration," IDC reported.
Different Views of Cloud IT
While federal agencies are more disposed to cloud innovations, there are differences within the federal sector on the importance and use of the technology. For example, a larger percentage of defense sector IT workers, at 20 percent, ranked the cloud as "very important," while only 15 percent of federal civilian IT professionals gave the cloud that ranking.
But a greater percentage of civilian workers gave the cloud the next-highest score in terms of "importance" than did defense staff. The survey was conducted in April and results were released in early August.
Given seven categories of potential investment levels for the cloud, federal civilian and defense professionals differed on all seven. Similarly, IDC listed seven management values of cloud computing, such as "improves operational efficiency" or "offers new IT functionality and flexibility." Federal IT personnel differed in ranking these values as well, often by significant margins.
In a "cloud readiness" survey of federal agencies, IT consultant Deltek reported similar findings. Responses showed that "agency preparedness varies, even as policies and mandates push for broader near-term cloud adoption," Deltek said in the May 2012 report.
"While the 'cloud first' policy encourages agencies to transition services to the cloud, ambitious timelines and policy pressure may not give adequate time for agencies to develop solid, long-term strategic plans," said Deniece Peterson, senior manager with Deltek.
"As a result, private cloud deployments, which allow agencies to maintain control over the risk that lack of adequate planning may create, will continue to dominate the market in the near term," she said.
The lesson for vendors is that the apparent simplicity of on-demand IT solutions will call for multiple approaches to marketing the cloud to federal customers.
Clues to Federal Cloud Marketing
One way to track federal cloud intentions is to follow agency security plans required by the Federal Risk and Authorization Management Program(FedRAMP), a protocol designed to help agencies transition to the cloud. Both agencies and cloud service providers can initiate a FedRAMP application.
"The FedRAMP process is worth investigating for many vendors. It helps them understand what's required and how the government can help them plug into the federal cloud procurement process," Shawn McCarthy, research director at IDC Government Insights, told the E-Commerce Times.
"Beyond that, just having a cloud portfolio to offer along with their other solutions is important. Customers are increasingly expecting cloud-based solutions to be one of their choices," he said.
Among the cloud marketing nuggets the IDC report yielded is that government agencies at all levels tilt heavily toward using major IT vendors. Factors supporting that tendency include the reality that big organizations such as federal agencies are accustomed to dealing with big vendors, and that cloud migration, at this point, is considered a major technology shift requiring major company capabilities.
"Both factors are relevant. But the tech expertise is paramount. Cloud solutions usually mean integration with existing systems and business processes. This is where the systems integrators can offer a wealth of experience," McCarthy said.
"Small companies continue to surprise us with innovative technical solutions. I wouldn't rule them out. But it can be tough to get noticed when you are a small vendor. Often partnering with a big integrator is a viable solution," he added.
Vendors with current contracts for major IT deployments may be able to use those vehicles to obtain entry into cloud projects.
"We have found that existing contracts give vendors some leverage in the cloud market," Alex Rossino, principal research analyst at Deltek, told the E-Commerce Times. The terms allow vendors who already have federal contracts for data management to provide additional services related to "emerging technologies" and other innovative solutions.
Agencies and vendors alike have been touting the adoption of major cloud investments such as the US$35 million Google-Onix Networking contract with the U.S. Interior Department announced last May. New federal contract vehicles have been developed to promote cloud adoption.
Yet a significant number of on-demand IT projects have been initiated "behind the scenes," Rossino reported, without the use of major Requests for Proposals, or highly publicized innovative contracts. Deltek counted 214 federal cloud projects that have been launched in some fashion in the last two years.
Another possible marketing tool to promote federal cloud adoption is emphasizing the ability to budget for on-demand projects as incremental, annual operating expenses, versus big, long-term capital projects. Yet many federal IT professionals are not sufficiently aware of that option.
For example, 21 percent of federal IT managers are unaware that a move from "CapEx" to "OpEx" funding is possible, let alone encouraged, in the federal 2013 budget, according to a survey conducted by MeriTalk. The in-depth survey on federal IT financing was released in June and was sponsored by Brocade. Only 36 percent of federal respondents were even considering a change in the budgeting process, the survey showed.
Funding Differences Need Attention
Federal IT professionals link cloud adoption to an operating budget. Seventy-two percent of the Meritalk-Brocade survey respondents said that conversion from CapEx to OpEx is necessary to implement public or community cloud computing, primarily to support infrastructure.
"The idea of different types of funding is not new. But using 'OpEx' funds for more traditional forms of acquisitions is new. Understanding that the hardware itself can actually be seen as a commodity and that it is the services provided through those assets which are of value, allows federal agencies to access what can be more stable forms of funding," Lisa Paquette-Nelson, director of Brocade Network Subscription, told the E-Commerce Times.
"Using OpEx allows agencies to acquire the services they need and not take on the liability that can come from actual ownership. This should provide the agencies with the flexibility to move when products become obsolete or transition out older products, and not be tied to limited capital budgets," she said.
"Looking at IT as an operational expense opens up new avenues of savings, control, and simplicity for federal IT managers, but like most new concepts it takes time to truly understand the value and how to unlock it," said Anthony Robbins, Brocade's vice president for federal sales.
The different funding awareness levels within agencies adds another variable in the challenge vendors face of marketing cloud projects to federal customers.
For vendors, the simple concept of on-demand cloud service doesn't necessarily yield a simple, one-size-fits-all marketing pattern. Providers will have to address each federal customer's needs individually, and use whatever market entry point is available to obtain cloud business.