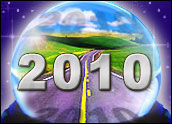 Search marketing will undergo many changes in 2010, according to marketing agency Greenlight.
Among other things, Facebook will have to offer better ad tracking, mobile search will take off, and Google will rethink incorporating Twitter search data into its real-time search results as well as include video content in page relevancy scores.
Also, the Microsoft-Yahoo deal will make search a two-horse race by the end of the year, Greenlight predicted.
In addition, advertisers will have to pay more attention to winning the click; pages will have to load faster on Google to get decent rankings; and domain structure will become increasingly important for paid search.
Of Facebook, Google and Mobile Search
More advertisers will want to get into Facebook's placement targeting program, and this will force the social networking site to offer better tracking, said Hannah Kimuyu, director of paid search at Greenlight.
"At present, Facebook only provides click-through data, but eventually it will need to consider more thorough tracking capabilities, such as tracking to conversion," Kimuyu told the E-Commerce Times. "The key attribute of social media advertising and contextual targeting is the ability to retarget and market directly to your consumer."
Google's incorporation of Twitter into search to provide real-time search has not really taken off, according to Greenlight. It usually replicates search results or links to information that can be found in pre-existing news results. In 2010, Google will either relegate Twitter data from online searches to a separate page limited to signed-in users as part of the searcher's social circle, or it will remove the Twitter data completely.
Offering up a "what's hot on the Web" pick list would be a more useful implementation of Twitter than integrating it into Google Search, Kimuyu said.
Google will factor the content of videos into page relevancy scores around late 2010, but it will play a minor role in search results, Kimuyu predicted. It needs to, because a lot of content is produced as video now. "Some bloggers have given up writing entirely in favor of producing videos, which are quicker to make and often are more engaging," Kimuyu explained. "So indexing and ranking video content is a natural step."
This incorporation of video will be done through Google Audio Indexing, or "Gaudi" for short. Currently in Google Labs, Gaudi lets Google index audio content from YouTube videos. Gaudi can send searchers directly to the point in a video where a word or phrase is mentioned.
Meanwhile, mobile search will become a more credible channel for advertising in 2010, Greenlight forecasted. Google and Yahoo are already pushing this channel again. With the advent of wider advertising opportunities such as targeting maps, street view and the emergence of smartphones and their associated applications, the search marketing company expects mobile to be a much more attractive proposition for advertisers.
Mobile search has been on the agenda for a while now, but search engines needed to build advertisers' trust, Kimuyu pointed out. "With consumers now embracing smartphones, the output is big enough and continues to grow at a fast enough pace to justify pushing mobile advertising and growing the market," she said. Kimuyu also cited a recent prediction by Google CEO Eric Schmidt that advertising revenues would shift massively from the fixed Web to mobile platforms.
Location-awareness and other mobile features make mobile advertising even more attractive. "With mobile advertising, we know so much more about the consumer, and this allows the advertiser to target customers more precisely, making marketing more effective," Kimuyu explained.
Milking Microhoo for Money
Search will become a two-horse race by the end of the year, between Google on the one hand and the Microsoft-Yahoo combination, or "Microhoo," on the other, Greenlight predicted.
Bing will power natural search results for Yahoo while yahoo will handle advertising for Bing.
Whether on Bing or anywhere else, advertisers must focus more on winning the click — getting consumers to click on their links and stay on their Web sites, according to Greenlight's predictions. They can do this by building a brand both offline and online that people will recognize when they see it, Kimuyu said. They will also have to pay more attention to factors that affect click-through rates such as titles, snippet text and display URLs.
Pages must also load faster, and Greenlight predicted that benchmarking page response times against competitors' pages and improving response times will become part of search engine optimization. "We're predicting that load speeds of under one second will typically be necessary to qualify for any type of ranking boost," Kimuyu said.
That could lead to better page design in the future. "This doesn't necessarily mean clean, simple design is the way forward," Kimuyu pointed out. "Many of the most popular sites already have a clean, simple design. The big issues that drag down page speed tend to be technical in nature such as excessive markup, script usage, and server bandwidth."
Meanwhile, companies that have multiple domains will need to figure out how to deal with Google's new display URL policy, announced in 2009. Google now requires all display URLs within an ad group to have the same top-level domain.
Advertisers will have to figure out how this will affect their quality scores because changes to the display URL will change the cost per click. Advertisers now cannot use shortened URLs like those offered by TinyURL in email messages.
On the other hand, the policy will help fight spammers and hackers who spoof genuine Web pages by creating similar-looking Web pages that contain malicious links or malware. "Google's insisting on a consistent domain structure will reduce spamming and rogue advertisers attempting underhanded methods to increase visibility," Kimuyu said.