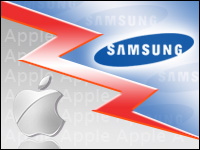 The U.S. Supreme Court on Tuesday spoiled Apple's hopes for a big payday, scotching the US$399 million award in its successful patent infringement suit against Samsung.
Justice Sonia Sotomayor delivered the Court's decision, which turned on what lawmakers meant when they referred to an "article of manufacture" in a patent act passed in 1952.
According to the Federal Circuit Court of Appeals, which affirmed the jury's award for damages, the article of manufacture in this case included the entire phone — even though the design elements cribbed from Apple represented only a part of a phone sold by Samsung.
The Supremes disagreed with that finding and ruled an article of manufacture in a multicomponent product need not be the entire product, but could be a component of the product.
The "term 'article of manufacture' is broad enough to encompass both a product sold to a consumer as well as a component of that product," Sotomayor wrote.
"A component of a product, no less than the product itself, is a thing made by hand or machine," she continued. "That a component may be integrated into a larger product, in other words, does not put it outside the category of articles of manufacture."
Sanity Restored
The case, which was returned to the lower court for further action, should reduce the size of the award — which a jury initially set at $1 billion — because the profit would be less for a component of a phone than for the entire phone.
"The Supreme Court has once again restored sanity by overruling the Federal Circuit with its notorious pro-patentee bias," said Florian Mueller, author of the FOSS Patents blog.
"The top U.S. court has made it clear that design patent holders can't necessarily seek a disgorgement of an infringer's entire profits on a product but may have to content themselves with what is attributable to a single component," he told the E-Commerce Times.
Course Correction Needed
A course correction was needed in the size of awards for infringement of design patents, remarked Janelle Waack, an attorney with Bass, Berry & Sims.
"Design patents are punching above their weight," she told the E-Commerce Times. "They are getting outsized damage awards that are not consistent with the technology and products on the market today."
Awards are based on a 1950s law passed when products were simpler, Waack explained. "Design patents were used for things like dinner forks, fashion items or maybe a lamp shade. Now consumer products are incorporating much more technology and are more sophisticated."
In addition to design elements, smartphones have thousands of components inside their cases that give the product value, Waack noted.
"We still choose our phones based on design, but only a part of what makes that smartphone valuable to us and makes us want to shell out money for it is based in design," she said. "A large portion of that value is based on how it works."
Ramifications of the Ruling
The SCOTUS decision in the Apple-Samsung case will have ramifications for more than the two companies embroiled in the lawsuit.
"It will significantly reduce the amount of damages that can be recovered from infringement of design patents" noted John S. Artz, an attorney with Dickinson Wright.
Before the Court's decision, an infringing design feature could not be separated from an entire product. If the profit on a phone that sold for $800 was 25 percent, the owner of the infringed design would get $200 in damages for each phone.
Now, a design element can be treated as a part of the phone. If a court rules that an element contributes 25 percent to the value of the phone, then the owner of the infringed design would get 25 percent of the profit on each phone.
"If a product has very few features, this decision will not have as significant an impact on it," Artz told the E-Commerce Times. "If you have a product that has multiple features that all contribute to its design, then this will have a significant impact on that."
Lower-Court Rerun
The Court may have clarified the meaning of "article of manufacture" in general terms, but it left most of the heavy lifting to the lower courts.
"What was a little disappointing to me is that the Court didn't make any effort to help the lower courts determine when an article of manufacture should be treated as an entire product versus just a component," said Mark McKenna, a professor of law at Notre Dame Law School.
"All the Court says is the statutory language is broad enough to accommodate both those things, but it doesn't give a test to determine that," he told the E-Commerce Times.
"Now the lower court is going to have to reconsider how to allocate damages," he said, "knowing that the damages are not to focus on the entire sale of the phone but on the components, without a lot guidance of how they're supposed to do that."