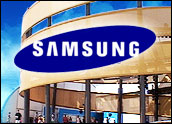 Shares of Samsung Electronics fell sharply on Tuesday after the company confirmed reports that it had halted production of its flagship Galaxy Note7 smartphone, just launched this summer.
The move came after several replacement phones reportedly smoldered or caught fire.
Shares fell 8 percent in the Korean market.
Samsung had been working with the U.S. Consumer Product Safety Commission on a voluntary recall and replacement program, spurred by reports that dozens of the new devices had burst into flames due to faulty lithium-ion batteries.
Regulators also had banned them from commercial aircraft.
Regulators Investigate
The CPSC will continue its active investigation into the reports of phones "overheating and burning in multiple states," said Chairman Elliot Kaye, who praised Samsung, along with retailers and carriers, for suspending Note7 sales and replacements.
"No one should have to be concerned that their phone will endanger them, their family or their property," Kaye said. "Due to the ongoing safety concerns associated with Galaxy Note7 phones, it is the right move for Samsung to suspend the sale and exchange of all Galaxy Notes7s."
The Federal Aviation Administration has urged passengers not to use, charge or stow any of the Galaxy Note7 phones in checked baggage.
The FAA referred to last month's safety alert, which notes that dangerous or defective lithium-ion batteries cannot be transported via air cargo and carry heavy restrictions for passenger or crew transit.
One of the highest-profile incidents involving a Galaxy Note7 phone occurred last week, after a passenger who had boarded a Southwest Airlines plane scheduled to fly from Louisville to Baltimore reported smoke emitting from his Galaxy Note7 replacement device, according to Lori Crabtree, spokesperson for Southwest.
All passengers and crew safely exited the plane through the main cabin door, she told the E-Commerce Times.
Brand Damage
The Samsung brand, which has enjoyed a longstanding reputation for quality, likely will take a beating, as the recall and subsequent halt of sales expose something seriously amiss in the production and quality control process at the company.
"This is a disaster that keeps on growing for Samsung and their brand," observed wireless analyst Jeff Kagan.
"This problem should never have occurred. The devices should have been tested thoroughly, and this problem should have been found before it hit the market," he told the E-Commerce Times.
While Samsung has other mobile phones and other devices in its product line, the damage has spilled over to some of those other devices as well, Kagan noted. Some consumers have lost trust in the overall brand.
"Other companies have been dethroned for less than this," he said.
There's a perception — based on anecdotal evidence and analyst forecasts — that Samsung has been losing market share to Apple, which happened to release its top-of-the-line iPhone 7 within weeks of the Galaxy Note7 release.
Samsung was the market leader for mobile phones worldwide during the first half of the year, with 22.8 percent of the market compared to Apple's 13.8 percent, according to market share data from Gartner analyst Tuong Nguyen.
In the U.S., Apple led in the first half with 36.8 percent market share, compared to Samsung's 26 percent.