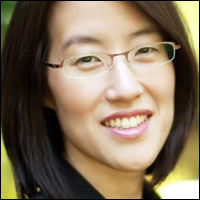 More than 208,000 people have signed a Change.org petition calling on Reddit interim CEO Ellen Pao to step down.
Many Redditers fear Pao will run Reddit into the ground, the petition claims, noting that alternative sites have sprung up in recent months and received vast amounts of traffic.
The immediate cause of the unrest was last week's dismissal of Victoria Taylor, Reddit's director of talent, who was responsible for 1,400 of its "Ask me Anything" celebrity interviews.
Moderators of several hundred subreddits protested by taking their communities private, which sapped the main Reddit site of content.
Communications between Reddit management and its subreddit moderators has been lacking and unsettling, after years of empty promises to improve things, the petition alleges.
Pao Steps Up to the Plate
Pao on Monday apologized, saying "we screwed up" — not just on July 2 when Taylor was let go, but "also over the past several years."
Reddit repeatedly has failed to deliver on its promises to moderators and the community over the years, she admitted, and it has not always been responsive to feedback or requests.
Reddit will improve its tools, Pao said, naming two people who will work with the moderators on which tools to build, and then deliver them.
It has nominated Kristine Fasnacht, aka "u/krispykrackers," to take over Taylor's role, and management will figure out how to improve communications.
Reddit also is providing an option for moderators to default to the old version of search to support their existing moderation workflows.
Delivering concrete results will take time, Pao said. She urged the community to share its feedback.
We Have Your Back, Ellen
"Regarding the Change.org petition, Ellen has the full support of the team," Reddit spokesperson Heather Wilson told the E-Commerce Times.
The petition "is not a concern," she said.
Redditors Respond
Pao's apology drew a mixed response from Redditors.
"Although I disagree with the direction Reddit HQ is taking with the website, I understand that monetizing a platform such as Reddit can be a daunting task," wrote SingularTier.
SingularTier asked what plans Reddit HQ has for monetizing the site, and pointed out that failing to understand that "a large vocal subset" of users were upset by Taylor's firing was "a huge misstep."
Reddit is focused on ads and gold — paying members — but will remain conservative on what ads are allowed, responded "ekjp."
Some other commenters pointed out that Pao should have apologized directly to them instead of going through the media. A few remarked that she was pandering to the moderators.
Perhaps Reddit needs to placate its moderators, some of whom may share the view of /u/CaptainObviousMC.
"I 100% don't care at all about this situation, Reddit, or the moderators," /u/CaptainObviousMC wrote. "The moment the content creators jump ship, I'll follow them…If Reddit compromises its content stream by having moderators jump ship, I'm out too, not because I care, but because I don't."
The Pain of Leading an Open Community
It isn't easy to lead an open community, as Wikipedia found out when it tried to take action over the Gamergate controversy.
"A big part of the problem is that much of the company's value is provided by volunteers who aren't compensated," said Rob Enderle, principal at the Enderle Group.
"You can't just order them to suck it up and not expect things to go really badly," he told the E-Commerce Times.
Management may need to restructure the company.
"Victoria Taylor actually had more control over Reddit's income than Pao did, and that became painfully clear this week," Enderle pointed out.
That leads to yet another problem, he said. Reddit "needs someone more willing to engage with the community than a typical CEO."
Volunteer-run services "are much closer to political campaigns, in that they value charisma and leadership over management skills," Enderle observed.
"Taylor apparently had the former and Pao the latter, and Pao may have to step down in order to keep Reddit from failing, or they'll need to bring Taylor back,"he suggested — but "neither of these, at this point, would necessarily fix the core causes of this problem."