Popular trivia game QuizUp on Thursday issued an update that gives players access to a broader array of social networking tools.
Users' exchanges had been spilling out of the trivia app and into forums, so developer Plain Vanilla Games decided it was time to build out the game's social features. QuizUp now aims to connect users through their shared interests, while staying put on its trivia game foundation, the company said.
QuizUp's latest update gives quiz topics their own pages, where users who have similar interests can chat and share information with one another. They can challenge each other to a round of trivia or find out what other interests they have in common.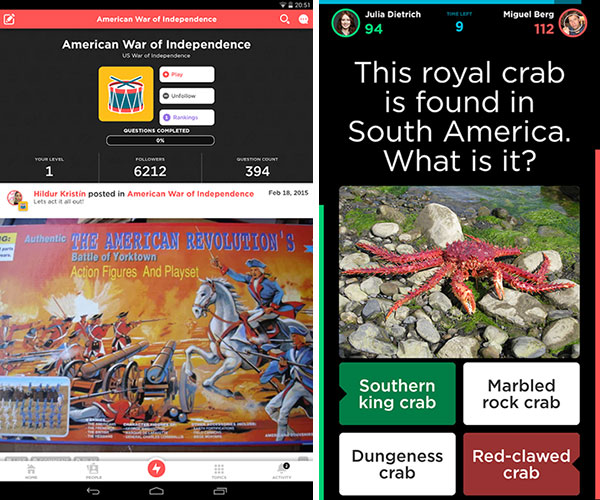 Along with have their own pages, topics now have a "store" that makes them easier to navigate. QuizUp's Topic store — which is actually completely free — features collections of content, some of which has been curated by the app's editorial staff.
Plain Vanilla also introduced a followers model that enables users to keep track of their friends' activities on QuizUp through a news feed. Users can check out other players' QuizUp stats and find out what topics their friends have been browsing.
In addition to the apps for iPhone and Android, QuizUp now offers a website that allows both gameplay and social interactions on a computer.
Pivotal Moment
QuizUp founder and CEO Thor Fridriksson isn't a fan of in-app ads, as he said in an interview last year. Plain Vanilla has been exploring other ways to monetize the free trivia game.
QuizUp skyrocketed to success in 2013, drawing about 20 million players in six months. Plain Vanilla received US$27.7 million through four rounds of funding during its first year. Without ads or a premium tag or public trading, QuizApp turned to brands for discrete advertising.
Companies wanting to reach QuizUp's massive user base could sponsor topics, essentially quizzing customers and prospective customers on product knowledge. For example, HBO could sponsor a Game of Thrones quiz filled with interesting tidbits that might encourage players to catch up on the series or rewatch it for details they may have missed the first time.
Relying on sponsored content as the primary method of monetization meant Plain Vanilla needed to find a more effective approach to bringing in new users and keeping them longer. Enter the social component.
Social Security
QuizUp's new social component has the potential to be a significant factor in the game's profitability. Every app and game can benefit from a social element, noted bilingual marketing expert Patricia Vila, a senior account executive at the Conroy Martinez Group.
The human connection is ultimately more important than the entertainment factor, she said, and combining educational and social elements is the best way to package a trivia game that lets players challenge and meet new people.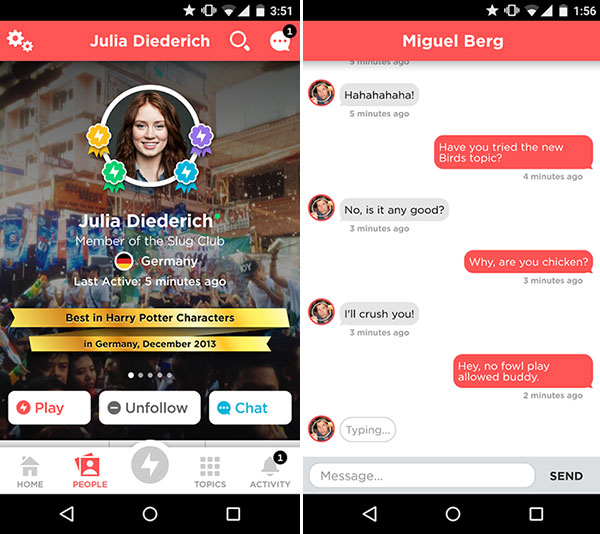 It's also "a wonderful way to meet people from other countries," Vila told the E-Commerce Times. "We are all interconnected, and it is just going to grow and will become more globalized from here. I honestly don't see a downside if done carefully."
A social component may not work for every game, but the inclusion of such a mechanic seems to be QuizUp's natural progression, observed Charles King, principal analyst at Pund-IT.
With QuizUp's vast collections of topics, users reveal their personal interests to others based on the trivia subjects they play, he noted.
"So, if you happen to be interested in a particular type of car or a certain historical epic or whatever topic you'd choose, you're self selecting to spend time with people who share a particular interest of yours," King told the E-Commerce Times. "That, I think, really reinforces the social mechanism of the QuizUp app."
However, a social element isn't needed for every app, noted Rob Enderle, principal analyst at the Enderle Group.
For focused apps — ones that don't require input from others — a shoehorned social component can even feel silly, he suggested.
"Social plays where there are things you want to share — pictures, creations — or where you need help, or where competition enhances the process — such as exercise, weight loss, and some types of games," Enderle told the E-Commerce Times.
"Outside of those categories," he said, "social often just doesn't make sense."