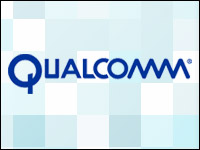 Qualcomm plans to ask the U.S. International Trade Commission to block imports of iPhones, Bloomberg reported Wednesday, citing a person familiar with the matter.
The move reportedly was spurred by Apple's recent decision to stop making royalty payments owed under a licensing agreement between the two companies, which is the subject of a billion-dollar legal battle in federal court.
Qualcomm last month announced that for the quarter ended March 31 Apple had withheld payments to its contract manufacturers for royalties owed under a licensing deal for technology used in the iPhone.
Apple informed Qualcomm that it would continue withholding those payments until the legal dispute was resolved in court, Qualcomm said.
"Apple is improperly interfering with Qualcomm's longstanding agreements with Qualcomm licensees," Dan Rosenberg, general counsel at Qualcomm, said last month. "These license agreements remain valid and enforceable."
Qualcomm cut its fiscal third-quarter profit to 75-85 US cents a share, from prior estimates of 90 cents to $1.15. The company cut its revenue forecast to between $4.8 billion and $5.6 billion, from previous guidance of $5.3 billion to $6.1 billion.
"In terms of why we're withholding royalties, you can't pay something when there's a dispute about the amount," Apple CEO Tim Cook said. "You don't know how much to pay."
Qualcomm has been charging a percentage of the iPhone value, he said, and though they "do some great work around standards-essential patents," the Qualcomm contribution is just one small part of an iPhone.
Pre-emptive Strike
Qualcomm will ask the ITC to ban imports of the iPhone, which is made in Asia, in anticipation of a new iPhone model scheduled for release this fall, according to the Bloomberg report.
Qualcomm would not comment on its legal options regarding the Apple case, spokesperson Clare Conley told the E-Commerce Times, reiterating the fact that it did not comment for the Bloomberg report.
Such a move likely would fall under Section 337 of the Tariff Act of 1930, which provides for cease and desist orders in intellectual property disputes, ITC spokesperson Margaret O'Laughlin told the E-Commerce Times. However, she did not comment on whether such a request had been made or whether either of the companies had contacted the ITC.
If Qualcomm should prevail in a case filed with the ITC, the result would be what's called an "exclusion order," said Alexander Poltorak, CEO of General Patent Corporation.
"With an exclusion order, Qualcomm can file a customs survey and block Apple phones from entering the country," he told the E-Commerce Times.
Proceedings like this have to be completed within 12 months by statute, Poltorak said, though they can be extended another six months in particularly complex cases.
Qualcomm Corners Market
Apple originally filed the $1 billion suit in U.S. District Court in Southern California, alleging that Qualcomm was using its dominant position in semiconductors to force billions of dollars in royalty payments for technologies used in Touch ID, Apple Pay and even added memory.
Those technologies have nothing to do with the Qualcomm baseband processor chipsets used in the iPhone, Apple contended.
Qualcomm last month denied the allegations and filed counterclaims alleging that Apple breached agreements and encouraged regulatory attacks against Qualcomm as part of a scheme to coerce unfair licensing terms.
Qualcomm last year was hit with a record $865 million fine by South Korean regulators who determined that the company engaged in anticompetitive practices involving its chipsets for mobile phones.
The U.S. Federal Trade Commission earlier this year filed suit against Qualcomm, alleging it essentially monopolized the sale of baseband processors through its "no license, no chips" policy, and that it coerced Apple into an exclusivity deal for several years in exchange for reduced royalties.