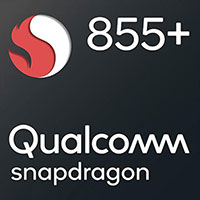 Qualcomm Technologies aims to push the speed limits of mobile gaming with the added features in its Snapdragon Mobile Platform announced Monday.
The Snapdragon 855 Plus Mobile Platform, its newest processor, performs graphics functions 15 percent faster. It will show up in new devices later this year.
Snapdragon 855 Plus is an update to the flagship Snapdragon 855, released earlier this year. The 855 emphasized speed to support enhanced performance and deliver leading experiences in multi-gigabit 5G, gaming, AI and XR. As the second release within the same year, the 855 Plus represents a major departure from Qualcomm's usual one-per-year release cycle.
The Snapdragon 855 Plus platform's performance boost is expected to raise gaming to the next level in the 5G mobile networks arena. Qualcomm's most advanced mobile platform to date, it will build upon the success of the 2019 Android flagship Snapdragon 855 5G mobile platform, according to Kedar Kondap, vice president for product management at Qualcomm Technologies.
"Snapdragon 855 Plus will raise the bar for elite gamers with the increase in CPU and GPU performance and elevate experiences for 5G, gaming, AI and XR, which is something our OEM customers look to us to deliver," he said.
Media consumption, including gaming, is one of the prime commercial pitches for 5G networks. So delivering hardware that makes the most of those services is critical to success, said Charles King, principal analyst at Pund-IT.
"Qualcomm understands that point and is getting a jump on things," he told TechNewsWorld.
Elite Snapdragon 855 Plus
Following the Snapdragon 855 Plus announcement, Asus said it would be the first mobile device maker to use the chip, already planned for in its upcoming ROG Phone II. Qualcomm expects many other high-end gaming device makers to follow suit. Devices using the chip will hit the market later this year.
The Snapdragon 855 Plus boasts a CPU clock speed of up to 2.96 GHz. The upper limit of the Snapdragon 855 is 2.84 GHz.
Qualcomm's mobile processors are used in most high-end Android smartphones. With new phone purchases slowing, the Snapdragon 855 Plus could give customers an attractive reason to upgrade their devices. The speed increase and other new features will be especially enticing for avid game players looking for a new thrill on their smartphones and tablets connected to 5G networks.
5G is the new cellular standard that promises download speeds in the multi-gigabits. The new platform is tuned for artificial intelligence as well as augmented and virtual reality.
To work on 5G networks, the Snapdragon 855 Plus needs to be paired with the X50 modem. Like the regular Snapdragon 855, the 855 Plus includes the X24 LTE 4G modem.
5G Hopeful Marketing Strategy
Mobile gaming is hugely successful, but its current capabilities may not be enough for hardcore gamers obsessed with performance and high-end graphics, noted King. 5G technology could change many of those folks' minds.
The new technology is as much about attracting new users as satisfying existing gaming audiences. In large part, it will depend on developers and the use they make of new 5G networks and devices.
"We have seen past media revolutions — streaming programming from Netflix and Amazon are good examples — essentially make new and remake old markets. 5G has the potential to make that kind of impact," King said.
Improving gaming processor performance is essential for Qualcomm and other mobile gaming vendors. A premium gaming experience is top of mind for Qualcomm Technologies, which is why the company created Qualcomm Snapdragon Elite Gaming as a way to transforms premium mobile devices into powerful gaming machines, according to the company.
"Many mobile franchises and games have their own eSports leagues where serious gamers compete. We believe the market for mobile gaming will continue to grow among mainstream and serious gamers," a Qualcomm spokesperson said in comments provided to TechNewsWorld by company rep Catherine Baker.
Qualcomm is seeing more OEMs launch gaming-specific devices or market gaming as a marquee use case for a mobile device. That has the potential to increase and encourage wide mobile gaming adoption, the spokesperson said.
Highlighting the Specs
Gaming phones as a special category of smartphone are becoming more popular. They are fitted with specialized gaming features that include fast processor speeds, better graphics throughput, advanced cooling systems, gaming-specific controls, and displays with a high refresh rate.
The new Snapdragon 855 Plus is potentially well-suited to drive mobile game-playing satisfaction. Its refreshed specs include new Qualcomm Kyro 485 Prime CPU cores with improved clock speeds of up to 2.96 GHz.
To enhance the better CPU performance, the new platform includes the Qualcomm Adreno 640 GPU. That accounts for the 15 percent graphics speedup, according to Qualcomm. The enhanced platform offers all-day battery life in premium 5G devices.
Snapdragon 855 Plus also comes with several previously introduced gaming improvements. Qualcomm claims the Game Jank Reducer reduces the jitter and lag players sometimes experience in mobile games. Also factored in are features like Game AntiCheat Extensions and Game Fast Loader to help reduce the amount of time it takes to load an app.
The 855 Plus comes with an integrated multi-gigabit Snapdragon X24 LTE 4G modem. It also supports 5G connectivity using the X50 5G modem and Qualcomm Technologies' RF Front-end solutions.
Fired-Up Power Boosters
Snapdragon 855 Plus includes Qualcomm's latest technologies and features related to gaming, AI and XR:
The Snapdragon Elite Gaming Experience with a full suite of hardware and software features that are fully optimized for gaming, including the Vulkan 1.1 Graphics Driver that is 20 percent more power efficient than Open GL ES.
The 4th generation multi-core Qualcomm AI Engine, which offers a total capacity of more than 7 trillion operations per second for a powerful blend of dedicated and programmable AI acceleration.
XR viewers that connect to mobile devices fueled by the Snapdragon 855 Plus with the 5G X50 modem, thus accessing a blazing-fast, ultra-smooth 5G experience.
Mobile Gaming Winning Over Players
Gaming remains one of the most demanding smartphone applications from the standpoint of processing power and image quality, according to Peter Carson, vice president of marketing for mobile at Pixelworks and a former Qualcomm mobile executive.
The Snapdragon 855 Plus upgrade and the number of Pixelworks gaming phone design wins for visual processing enhancements are strong validation points.
"Advancements in processor performance and display quality have brought serious gamers into the smartphone market and given rise to a whole new category of gaming smartphones," Carson told TechNewsWorld.
Gamers are among the most technically savvy smartphone consumers. They typically seek the most visually immersive experience, enabled by the Pixelworks processor, as well as a competitive edge, enabled by a juiced-up apps processor such as the Snapdragon 855 Plus mobile platform, he noted.
"This is one of the forces that continues to drive forward-looking research and development in our industry," said Carson.
855 Plus Pushes Cloud Gaming
Gaming and video are the most important apps/use cases for mobile 5G. The trend toward multiplayer cloud gaming will be a boon for 5G platforms like the Snapdragon 855 Plus, according to Carson. These applications require not only a responsive processor, but also lightning quick network response time in order to maintain a competitive edge.
5G brings with it ultra-low latency — typically less than a 5-millisecond round trip from the device to network and back. That is veritable catnip for mobile online gamers, Carson said, adding that the Snapdragon 855 Plus platform along with Pixelworks visual technologies continues to push the envelope on visual quality for mobile gamers.