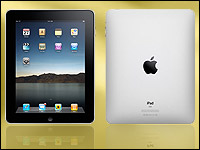 The Wall Street Journal might be available on a paid subscription basis on the iPad when that device hits retail shelves April 3, according to a story published Wednesday in the Journal.
A subscription to that publication on the iPad will cost nearly US$18 per month — certainly more expensive than the discount offers for subscriptions to the print edition, the online edition or a combination of both that can be found on the Internet.
Other magazines are also lining up deals for special iPad editions, according to the report.
Do You Want to Know a Secret?
The financial publication is currently working with a test iPad, according to the paper.
Here's the strange thing: The Journal's report doesn't quote any of the newspaper's own executives about its plans for the iPad, citing "a person familiar with the matter" instead.
Dow Jones, the publisher of The Wall Street Journal, did not respond to requests for comment by press time.
Pricey Paper
Financially, print media is on a downward spiral, and online versions of most publications continue to struggle even when they offer content for free. The Wall Street Journal is one of very few mainstream publications able to sustain the practice of charging for online access to its content, though its reported $17.99-per-month iPad price appears to be significantly higher than several offers one can find online for print subscriptions, online subscriptions or combo deals.
For example, this offer gives subscribers delivery on weekdays plus the Weekend Edition on Saturdays, as well as two weeks' free subscriptions, for $2.29 per week, or $9.16 per month — about half the cost of the iPad subscription.
Or take this offer for a combination print and online subscription at $1.99 per week for first-time subscribers to the online edition. That's $7.96 per month. Subscribers to the print edition qualify for further discounts.
Those offers may not be quite as good as they look, by the way. "Subscribers will only pay those promotional prices for a year," pointed out Carl Howe, director of anywhere research, at the Yankee Group. "A full subscription to the print version lists for around $250 a year, or just over $20 a month," he told the E-Commerce Times.
Why So Pricey?
In pricing its iPad version at $17.99, perhaps The Wall Street Journal is just going with the flow. Time, People, Men's Health and Esquire will be offering subscriptions on the iPad at or close to the cover price of a print issue, the Journal reported.
Ad buyers may also face premium pricing. Time is charging Unilever, Toyota, Fidelity Investments and at least three others about $200,000 apiece for a single ad spot in each of the first eight issues of its iPad edition, the Journal reported.
"I think Dow Jones is developing a premium service, and that has a premium price associated with it," Rob Enderle, principal analyst at the Enderle Group, told the E-Commerce Times.
Premium indeed — apparently, Wired, published by Conde Nast, is offering advertisers that buy eight pages of ads in a single issue on the iPad the ability to lace video and other extra features throughout that issue. Sports Illustrated is reportedly showing advertisers three ad prototypes for its iPad issue that are chock-full of video capabilities — one is for a Ford Mustang that includes an arcade-style driving game that leverages the iPad's tilt and turn capabilities.
"Rupert Murdoch didn't get to where he is today by giving content away," Howe remarked. "I think that Dow Jones is simply seeing the iPad as a money-making opportunity." Murdoch is a media mogul whose properties include Dow Jones and Fox News.
Testing Out the iPad Waters
There's another possible explanation for the Journal's high subscription price on the iPad — it's experimenting with the price point. "You can always reduce prices, but you can't increase them as easily, so perhaps Dow Jones is testing the market to get a sense of what people will pay," Enderle pointed out.
"Pricing is always a tough question in a new market, and the iPad is about as new a market as we have," the Yankee Group's Howe said. "No one really knows what people are willing to pay, and Dow Jones has simply put a stake in the ground showing that it wants to occupy a premium position."
Whether or not the move will that pay off is not yet clear. "Dow Jones' market consists of early adopters who will pay a big premium for the iPad, and that also suggests they may be willing to pay a big premium for content," Enderle said.
That may not last because advertisers are already putting the squeeze on media sellers to get discounts. For example, Allstate Insurance assembled media sellers in New York this week to tap their brains for better ways of reaching customers over different media channels, Advertising Age reported.
The insurance giant isn't alone. Ford, General Motors, Nike and IBM are among the companies that have made similar moves, according to Media Buyer Planner.
Companies that put content on the iPad in its early days may have to be prepared to take a financial beating. "Content for the iPad will be increasingly specialized for that device, but the number of iPads sold will probably remain low for some time as the product ramps to market," Enderle explained. "I doubt that, even at this price it's quoting, The Wall Street Journal will be profitable at first."