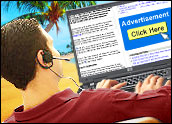 Claria Corp. makes some US$100 million a year selling pop-up advertising on the Internet, but with the launch of its PersonalWeb product this month, it's hoping to hitch a ride on a bigger gravy train.
With PersonalWeb, a permission-based vehicle for slotting customized advertising into Web pages, the company is diverting its focus away from the $500 million pop-up market and into the $12 billion to $15 billion in-line market.
"That market is 25 to 30 times larger than the pop-up market, and we have a competitive advantage with our platform," Scott Eagle, senior vice president for marketing for the Redwood City, Calif., company formerly known as Gator, told the E-Commerce Times.
Sour Grapes
He added: "Over time, will our emphasis shift? You betcha. Are we leaving the pop-up business today? Absolutely not."
"As my professor at Wharton said, 'We'd rather have a hunk of watermelon than a whole grape,'" he said. "Right now I have both, but that watermelon is getting bigger and the value of the grape is getting smaller."
The grape is also getting sour, as pop-ups become an increasing source of aggravation for Net surfers. A recent study commissioned by Hostway, a Chicago-based Web hosting company, showed pop-ups to be far and away the biggest pet peeve of consumers using the Internet.
"When Web sites and publishers began bombarding consumers with pop-up ads with no permission, often with no branding, they became hated," Eagle said.
Endangered Species
Rob O'Regan, editor in chief of CMO magazine in Framingham, Mass., noted that the "high annoyance factor" connected to pop-ups may be forcing Claria to redirect its focus.
"It goes back to the broader concept of permission-based marketing," he told the E-Commerce Times. "Consumers are in control now. They're the ones choosing whether or not they want to receive the messages. Anything that abrogates that trust, they're going to react negatively to, and pop-ups are the most egregious example of that kind of intrusive marketing."
"I think it's on the endangered species list just because people don't want to receive messages that way," he added.
Balancing Act
Hostway Vice President of Marketing John Lee maintained that marketers are looking for alternatives to pop-ups because their effectiveness has declined.
"It's going to be a cat-and-mouse game for awhile until we settle on something that is acceptable to the Internet crowd as well as through the advertisers," he told the E-Commerce Times.
"Much of the content on the Internet is paid for by advertisers so they're looking for ROI," he explained, "and consumers, at the same time, are looking for a way to surf the Internet without being interrupted or annoyed. How that will be balanced is yet to be achieved."
Better Offer on Table
PersonalWeb doesn't use pop-ups, he explained, but with a consumer's permission, it installs software on their machine that will build a profile of their online behavior. Based on that profile, customized advertising will be delivered to the consumer.
That kind of customization can lead to real value for a consumer, Eagle contends. For example, a florist could offer significant discounts to consumers buying flowers through a PersonalWeb ad. "That's because we can precision target the offer to people who buy flowers and gifts quite often but who don't buy from that florist," he explained.
"If you're not wasting your advertising, if you're precision targeting to your exact audience, you can put a better offer on the table."
More Transparency
If Claria wants PersonalWeb not to be tarred with the same brush as the company's pop-up efforts, it needs to keep the endeavor transparent, Hostway's Lee maintained.
"It needs to be self-evident to people that they are choosing to do something," he said.
"Much of the criticism that Claria has received in the past is not from serving up irrelevant ads," he added, "but that they installed software on computers in what was perceived to be an underhanded way."