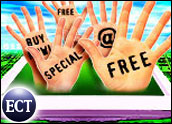 Web surfers are annoyed as hell and they're doing something about it.
That's the thrust of the findings in a survey to be released next week by Hostway, a Chicago-based Web site hosting service with more than 400,000 global clients.
According to preliminary information from the survey, obtained by the E-Commerce Times, respondents' major peeves about commercial Web sites were pop-up advertising (34.9 percent), registration log-on pages (16.7 percent), software installation (15.7 percent) and slow-loading pages (9.1 percent).
The results might be bad news for businesses that rely on these tactics to encourage, track or engage their current and potential customers.
Low Tolerance Levels
What's more, in responding to the survey, more than 70 percent of consumers said they were unlikely to purchase from, or even return to, a Web site after encountering these pet peeves. Because the survey showed only 25 percent of consumers would complain to the companies about encountering their pet peeves, the use of these online annoyances could be having a negative impact on e-commerce and e-business that's difficult to trace or measure.
The poll of some 2,500 U.S. adults age 18 and older was conducted by London-based TNS. It showed that Internet punters had very low tolerance levels for Web sites that exhibited annoying behavior. It found:
76.7 percent of respondents said they would be extremely or somewhat likely not to revisit a site where they found a pet peeve.
74.2 percent said they would be extremely or somewhat likely to unsubscribe to promotions and messages from a company operating an annoying site.
71 percent said they would be extremely or somewhat likely not to purchase from an irritating site.
71.3 percent said they would be extremely or somewhat likely to have a negative view of a company running a vexing site.
Not Accepting Annoyance
Hostway Vice President of Marketing John Lee expressed surprise that more than 76 percent of the sample said they wouldn't revisit a site engaged in infuriating behavior.
"I didn't think it was going to be that high," he told the E-Commerce Times. "People sort of accept the fact that these things are sort of part of their Web surfing experience and just move on."
"That means this is something businesses definitely have to pay attention to when they're making decisions on these Web site elements," he observed.
"The results of this survey are a clear warning to e-businesses," Lee said. "The Internet has matured to the point where consumers demand an easy online experience. Quite simply, consumers are warning companies, 'you're going to lose my business if your Web site experience is annoying.'"
As Irksome as Spam
Alan Elias, president and CEO of THINK360, an Internet marketing company in Austin, Texas, found another result in the survey surprising: more than 24 percent of the respondents said they were extremely or somewhat likely to complain to the company when they were exasperated by a site.
"I didn't think it would be that high," he told the E-Commerce Times. "In the surveys we've conducted, most people don't take the time to complain. They just stop using that company."
"If 24 percent of the people are taking the time to complain, that tells me that they're really upset with this issue," he added. "It's the same kind of frustration that all of us have with spam."
Disrespecting Customers
Craig Newmark, founder of Craigslist, a network of Web sites that has grown into formidable competition for newspaper classified advertising in several cities and is known for its unadorned, text-only approach to Web site design, maintained that many corporate sites are built for internal rather than external interests.
"Most corporate sites are for them and are optimized for their owninterests, not for the people who use the site," he told the E-Commerce Times. "When you see pop-ups and attempts to gather demographic data, those are signs that a site is about the corporation and not the consumer."
"When a site wastes people's time with intrusive stuff or poor navigation or slow loading pages, that's a kind of disrespect and we all resent it," Newmark added.
One-Way Talk
David Weinberger, co-author of the Cluetrain Manifesto and a fellow at Harvard University's Berkman Center in Cambridge, Mass., contends that many commercial Web sites would rather engage in monologues than dialogue with their customers.
"They treat their sites as if they were a publication in which they get to talk at us," he told the E-Commerce Times. "That, by itself, is alienating and a missed opportunity."
"If we're at a commercial Web site, it's not really because we care about the company," he said. "We're interested in a product. And we'd probably rather talk to other customers than with the company."
Lose the Attitude
"Most commercial Web sites act as if they are the best or only source of information about their product," he observed.
If a Web site wants to really reach its visitors, it has to lose thatattitude, he maintained.
"Assume that your customers know more about your product than you do," he advised. "Assume that they would rather talk with one another than with you. And assume that we are alienated by the commercial voice of authority that you present that has no humanity left in it."
---
This story was originally published on July 28, 2005, and is brought to you today as part of our Best of ECT News series.
---