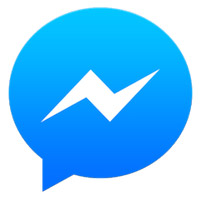 PayPal on Friday announced the immediate availability of its peer-to-peer payment service on Facebook Messenger, making it easy to exchange money between friends and family.
PayPal also introduced its first-ever customer service bot, which gives Messenger customers payment and account support right in the app.
An agreement struck last year with Facebook allowed 2.5 million PayPal customers in the U.S. to connect their accounts with Messenger and use PayPal to shop on Messenger, as well as to communicate with other PayPal users, noted COO Bill Ready.
PayPal is the leader in P2P payments, he pointed out, with US$24 billion in volume during the third-quarter of 2017, up 47 percent year-over-year.
"We've seen interest from the 2.5 million people who have connected their PayPal accounts to Facebook Messenger that they would like to use this as a way to communicate with us," said PayPal spokesperson Juliet Niczewicz.
Further, "the new PayPal bot for Messenger will enable people to have meaningful customer service interactions," she told the E-Commerce Times, "such as resetting passwords, handling account inquiries, and helping with refunds or payment issues so they can handle their business in the context they are in."
---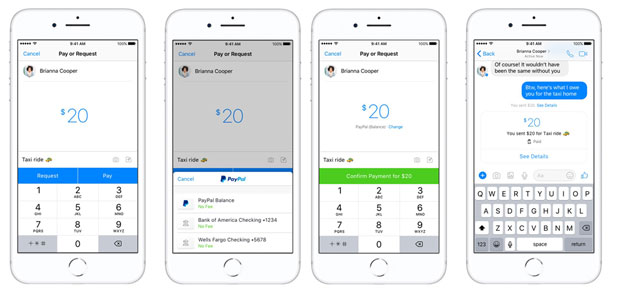 Click Image to Enlarge
---
PayPal previously entered deals with Apple's Siri to do transactions with voice commands, Niczewicz noted. It also partnered with Microsoft to allow money to be sent using Skype's chat function.
PayPal earlier this year launched a bot on Slack that allows users to send payments while inside a Slack conversation, she added.
Payments can be made in Messenger by pressing the blue plus icon when composing a message and then tapping the green payments button.
To use the bot, customers can look for PayPal in the search field, type a message to PayPal, and the bot will appear inside the Messenger app. Customers needing further help can choose to connect to live PayPal customer service.
Expanding Messenger
Facebook originally enabled the sending of payments through Messenger more than two years ago, according to spokesperson Jennifer Hakes. That functionality required customers to enter a Visa or Mastercard debit number issued by a U.S. bank into Messenger, and it offered the option of adding a PIN for greater security.
Facebook has adopted a strategy of creating a broad consumer technology platform and working to keep users within it by offering services through Messenger, observed Jack Kent, director for operators and mobile media at IHS Markit.
"Making Messenger more of a platform for commerce and transactions also serves Facebook's wider ambitions to drive platform monetization," he told the E-Commerce Times. "Bringing payments and advertising closer together can help drive up the value of ads and promotions inside the app."
Chatbots help customers deal with straightforward transactions like reorders, sending gift cards or paying bills, said Cindy Zhou, principal analyst at Constellation Research.
Promoting commerce inside a messaging app has been a standard tool in Asia for years — for example, with WeChat in China, she told the E-Commerce Times.
It has started to take hold in the U.S., she noted, with rival social media platforms embracing in-app commerce. Pinterest has introduced buyable pins, for example, and users can shop on Instagram.
While there appears to be a heightened in interest in automating these transactions, customers may rebel against having to interact with intelligent bots instead of live customer service agents, suggested Paula Rosenblum, managing partner at RSR Research.
"Have customers embraced outsourced, scripted customer service reps who know nothing about the country or the products they're supporting? No they have not," she told the E-Commerce Times.
The best customer service often results form shaming companies over social media, Rosenblum said, based on her experience.
"Otherwise I end up with one of those scripted reps," she said, "and it drives me nuts."