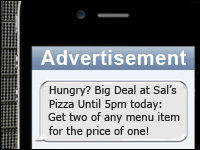 Let's face it, texting is ubiquitous. A constant stream of information comes and goes through our phones. Harnessing the power of this medium to reach customers is the goal of a whole new breed of mobile marketers.
"If you want to reach everyone, text messaging is the only way to do that," Josh Malin, marketing director with Ez Texting, explained to the E-Commerce Times.
Marketing, after all, is about being where customers are — and increasingly, customers can be found looking at their smartphones.
Opting In
To do text marketing, the first trick is to get customers to opt in — usually by sending a code word to a number. So, for instance, customers might text the word "PIZZA" to a predetermined number set up by a text messaging service, and in return they would get daily text "coupons" from Joe's Pizzeria — redeemable simply by showing the messages on their phones to the restaurant.
Ez Texting offers a service that helps businesses to launch such text-message campaigns. By texting a code word to a company's number, customers can receive coupons, sale notifications, or other communications. They opt in by texting a code word, and opt out by texting STOP.
"The fact that people can sign up wherever they are makes it a powerful way to interact with them," explained Malin.
Ez Texting encourages businesses to incentivize opting in — offering a coupon or other discount, for instance, as a reward for signing up, he noted.
Although the limited length of texts might seem to be a drawback, Malin argued that the very brevity of text messages forces companies to communicate clearly and effectively with their customers.
"Text messages are limited to 160 characters, and that constraint is actually what makes text marketing effective," he told the E-Commerce Times. "You have to be short and to the point."
Mobile Marketing for All
With text-messaging services, small- and medium-sized companies can do widespread marketing that might once have been available only to larger companies, explained Brad Morrow, VP of product management with mobile marketing company Mobivity, to the E-Commerce Times.
"Without an affordable platform like Mobivity's, monthly short code and associated provisioning fees — not to mention carrier connectivity issues — make it cost prohibitive for small businesses to get involved with mobile marketing," said Morrow. "The Mobivity platform was designed to remove these barriers and allow all businesses to participate in mobile marketing."
Acquired by CommerceTel in April 2011, Mobivity offers its mobile marketing services to businesses of any size.
"Mobivity's goal is to offer small and medium-size businesses the ability to participate in mobile marketing," explained Morrow.
Texting is part of people's lives already, so they tend to be comfortable inviting marketers into that sphere. The open rate for text messages hovers around 95 percent, so it's likely that if someone receives a text, it will be read — creating a fluid sense of connectivity between a consumer and a brand.
"A conversation from a brand to a consumer can take place through text messaging, which can be more effective at getting the brand's message across," said Morrow.
Multiple Channels
Some companies offer a range of services to their clients, including not just texting, but also emailing, social networking, and other communication options, based on the idea that a multiplatform approach is most effective.
"Mobile marketing is very hot," Ken Rhie, CEO of mobile marketing company Trumpia, told the E-Commerce Times. "We offer a multifaceted communication mechanism between businesses and their customers. In the longer term, we believe that for our business to be effective, we've got to cover all the bases. We are very strong in mobile marketing, but we're not just about mobile or email, but all in one."
It's important that customers have a sense of power and control when it comes to what messages they receive and when and how they receive them, Rhie emphasized.
"Customers should be in the driver's seat," he said. "They should be able to say how they want to be contacted, by text, social networks, or email. It will help eliminate a lot of spam and invasion of privacy."
If customers can choose how they want to receive their marketing messages, according to Rhie, they're more likely to respond positively to a company's message.
"They all use it for unique purposes," said Rhie, "but the common denominator is that people want to be contacted in the mode they use the most."