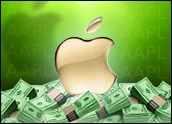 Apple CFO Peter Oppenheimer will retire in September, when he'll be replaced by Corporate Controller Luca Maestri, the company's VP of finance. Maestri will begin taking the reins in June.
The move was expected. When Maestri joined Apple last year from Xerox, where he was CFO, the rumor mill began buzzing about his being groomed for Oppenheimer's post.
Further, Maestri "was on Apple's earnings call the last quarter, so long-term Apple aficionados would have read that between the lines," Ronald Gruia, director of emerging telecoms at Frost & Sullivan, told the E-Commerce Times.
Highlights of Oppenheimer's Apple Career
Over the past decade that Oppenheimer served as CFO, Apple's annual revenue skyrocketed from US$8 billion to $171 billion, and the company expanded its global footprint, CEO Tim Cook noted.
Oppenheimer's duties as CFO involved overseeing the functions of controller, treasury, investor relations, tax reporting, information systems, internal audit and facilities.
He began with Apple in 1996 as controller for the Americas; in 1997, he was promoted to VP and worldwide sales controller. He was appointed corporate controller before rising to CFO.
Oppenheimer developed a disciplined global financial strategy, along with robust systems and procedures. He managed facilities expansion, including the addition of four data centers and the development of plans for Apple's new campus in Cupertino.
He also took over the running of Apple's retail operations when Senior VP of Retail Ron Johnson, who was handling that area, left for JC Penney's, a post he lost in April after presiding over plummeting sales and revenue.
Salesman, Not Savior?
Known as a buyback expert, Maestri was described by Barclays Capital analyst Ben Reitzes as the champion of shareholder return.
It's possible that his presence helped temper corporate raider Carl Icahn's pressure on Apple to increase dividend payouts to its shareholders.
Maestri also has extensive foreign experience. In his 20 years at automaker General Motors, he was part of the team that established GM's regional operations in the Asia-Pacific, including manufacturing investments in China and Thailand. He was CFO of the team that restructured operations in Brazil and Argentina and returned the region to profitability. Also, he was CFO for all of GM's European operations across 45 countries.
That might help Apple push further into overseas markets, where growth is stronger than in the United States.
However, Maestri's key job "is to sell the potential of Apple as a company and make investors believe it's still cranking out new and innovative products — like CarPlay and Apple TV — that will lead to continuing revenue streams," Gruia said.
Mo' Money
Maestri's appointment is a mistake, said Trip Chowdhry, managing director of equity research at Global Equities Research.
"The right person to be the CFO is Fred Anderson," Chowdhry told the E-Commerce Times.
Anderson — who was EVP and CFO at Apple from 1996 to 2004, and served briefly as CEO before Steve Jobs returned — was appointed to Apple's board of directors in June 2004 but resigned following an investigation into the company's stock option practices. He now serves as managing director and cofounder of Elevation Partners.
"Steve Jobs must be weeping today," Chowdhry fumed. "Apple needs to replace both its CEO and its CFO, who have presided over the loss of $130 billion in shareholder value. That's twice the amount lost during the Enron crisis."
Cook announced at Apple's annual shareholder meeting last week that the company would announce by the end of April whether to increase its dividend and stock buyback.
"The board is totally focused on the wrong thing," Chowdhury said. "Within the next 60 days, they shouldn't come up with what to do with Apple's cash holdings. Cook should have said within the next 60 days, he will put an iWatch on everyone's arm — within the next 120 days, he will sell Apple TVs."