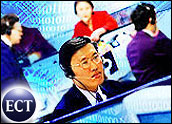 As the digital economy continues to surge, e-commerce companies are increasingly seeing the wisdom in incorporating customer service into their business strategies and long-term plans. In fact, a 1999 Gartner Group report estimates that companies will soon spend $6 billion (US$) a year on Web-based customer service applications.
The attention to service is needed. A recent study by Andersen Consulting found that holiday purchases on the Internet failed 25 percent of the time, because only a few Web sites were able to notify customers when to expect to receive the package at the time of order.
Unfortunately, contacting customer service is not always the answer. A report by Jupiter Communications shows that only 37 percent of Web ventures currently combine three or more customer service channels on their Web sites.
E-Mail Service Response Dismal At Best
In another study by Jupiter, the e-mail customer service capabilities of 125 leading Web sites were reviewed by trying to send them relevant consumer questions. 42 percent of the sites never responded to the e-mails, took more than five days to respond to the questions, or actually had no e-mail address listed on the site.
Customer service providers offer a hodgepodge of products for e-commerce companies to fine tune the interaction with their customers. APAC Customer Services is one firm that offers an independent platform to enable users to integrate a suite of Internet-based interaction capabilities such as collaboration, form sharing, and Web chat.
The suite allows the customer to select their preferred method of interaction, such as online chat or e-mail, or request an immediate or scheduled call back from a service agent. "The Internet has changed the dynamics and economics of customer relationship management," said Peter Leger, president and COO of APAC Customer Services.
Spotting Service Trends
Applications tools can not only help build a sticky Web site, but can also help managers spot positive trends or creeping problems. CyberShop.com, a leading online retailer of designer apparel and home furnishings, signed up with Business Evolution's @Once Service Center to further enhance its customer service capabilities. Business Evolution was recently purchased by competitor Kana Communications, which is emerging as one of the online customer service leaders.
"With Business Evolution's @Once Service Center, we can not only handle thousands of e-mails per day, but can also guarantee a response to our customers within 24 hours or less, much faster than many of our competitors," said Jeff Tauber, CyberShop.com Chairman and CEO. "In addition, by categorizing e-mails into different buckets, CyberShop.com can spot trends and be more effective addressing customer concerns."
Surveying The Situation
Good customer service often means surveying customers to identify their concerns and satisfaction. For that reason, CustomerCast is focused on interactive, graphic customer feedback so managers and company leaders can make more effective decisions with real-time, continuous customer, partner, and employee feedback.
Recently, Excite@Home engaged the company to find out about Excite's ISP service and found that it was rated as the highest in customer satisfaction among Internet Service Providers.
"We wanted to set up a system to measure subscriber satisfaction with our service to ensure that we are meeting or surpassing customer expectations," said Kim Aldrich, Director of Premium Services and Advanced Products at Excite@Home. "Prior to working with CustomerCast, we had no way to tie customer feedback to actionable programs and only limited means for sharing this information with our cable affiliates."
Talking Directly on The Web
While properly handling e-mail and surveying customers are important parts of the customer service mix, the most critical customer service feature could well be real-time chatting.
This area could well be the hottest in customer service in 2000. Larger sites will likely hire their own online chat staffs, much the same way that they operate customer call centers. In fact, it is possible that many voice call center operators will have chat capabilities added.
Smaller sites will not go wanting. Third party customer support services, such as PeopleSupport.com, can add real-time chatting capability to virtually any Web site on an as-required basis. After an initial setup fee, which includes training staff members to handle most service questions, PeopleSupport.com charges based on usage.