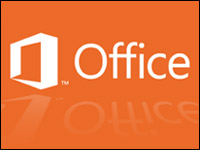 Microsoft's tip of a news event next week triggered an avalanche of prophecy that the long-awaited version of Office for the iPad was about to be released. Microsoft is billing the event in San Francisco on March 27 as a "briefing and news focused on the intersection of cloud and mobile computing."
While Microsoft officially withheld further details concerning next week's event, an assortment of unnamed sources did not. What's rumored to be coming is a version of Microsoft's Office productivity suite for the iPad. It will contain Word, Excel and PowerPoint; and it will be tied to a subscription to Office 365, Microsoft's cloud-based version of the productivity suite.
Microsoft in recent days has made some moves that seem consistent with plans to introduce Office for iPad. It rolled out a free, cross-platform versions of Office's notepad app, OneNote. It also announced a new pricing option for Office 365 — US$6.99 a month for a single device.
"There have definitely been bread crumbs left along the way," Wes Miller, a research analyst with Directions on Microsoft, told the E-Commerce Times. "It's been imminent for a long time, so it looks like we might actually see it."
No Free Lunches
Although iPad users are accustomed to acquiring apps for free or a flat price, requiring an Office 365 subscription would make sense — at least to Microsoft, suggested Miller.
"It'll be a turnoff for tablet users who don't have any investment in Office, but those aren't the people Microsoft needs to be investing in. Microsoft is focusing on customers who Office is a part of their daily life," he said.
"The people who are in a position to pay will happily pay because it means their iPads have become that much more efficient," added Jonathan H. Hill, an associate dean at the Seidenberg School of Computer Science and Information Systems at Pace University.
"Those of us who use iPads during the course of a business day — our machines just got a whole lot more valuable for us," he told the E-Commerce Times.
It could be argued that Microsoft could broaden the appeal of Office by offering it for the iPad for free or a fixed price, but that appears to be outside the company's long-term strategy.
"Microsoft has made it pointedly clear that their direction is devices and services, and they keep beating that drum," Miller said.
"Their goal is to sell you a device, and if they can't sell you a device, they're going to sell you a service," he continued. "Their goal is to make Office something you use regularly and to turn it into an annuity, not something you just buy once."
Applause for Nadella
Should Microsoft tie iPad Office to Office 365, it could be a "severely limiting factor" on the program, asserted Jim McGregor, founder and principal analyst at Tirias Research.
"I think it would be foolish," he told the E-Commerce Times. "The best thing Microsoft could do is offer it for free, but that means they'd have to replace that revenue with some other business model, and that's a difficult thing to do right now."
Recent announcements by Microsoft, as well as the rumored Office for iPad launch, are winning praise for the company's new CEO, Satya Nadella.
"He's moving a lot faster than the old regime did," Jack E. Gold of J.Gold Associates told the E-Commerce Times.
Nadella's nimbleness may have played a role in the long languishing Office for iPad project.
"He unstuck it," Val Wright, a principal at ValWright Consulting, told the E-Commerce Times. "He accelerated it and removed any final resistance to it."
For Microsoft and its new CEO, introduction of Office for the iPad couldn't come at a better time.
"With its new CEO, it signals that Microsoft is willing to go out and take advantage of good revenue opportunities like this, and it shows that they're willing to embrace the marketplace," Pace's Hill said.
It's estimated that some 200 million iPads have been sold since the product was introduced — an Office market that could generate as much as $2.45 billion a year for Microsoft. That no doubt contributed to the $1.70 bump in share price for the company's stock following the reports of the imminent release of Office for the iPad.
"The market rewarded the move," observed Hill, "and I think they've made themselves a more relevant company with it."