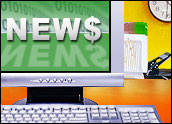 Google on Thursday said it will close Google News in Spain, as of Dec. 16.
That's in reaction to a new law that will take effect in Spain in January.
The law requires all Spanish publications to charge content aggregators for publishing any part of their content.
"As Google News itself makes no money (we do not show any advertising on the site) this new approach is simply not sustainable" Richard Gingras, head of Google News, wrote in a blog post. "So it's with real sadness that on 16 December (before the new law comes into effect in January) we'll remove Spanish publishers from Google News and close Google News in Spain."
Spain's new law is "a perverse policy, because it takes away the option from publishers as to whether to charge for aggregating their content," said Ronald Gruia, director of emerging telecoms at Frost & Sullivan.
"Now Spanish publishers will have to find some other way to monetize their sites," Gruia told the E-Commerce Times. "because revenue from Google was a big part of their earnings from their websites."
What Led to the Ruling
The Spanish Association of Daily Newspaper Publishers (AEDE) was apparently instrumental in lobbying to get the law known as the "Google Tax," passed in October.
The ruling does not specify how much publishers should charge news aggregators.
Google's response at the time was that it would work with Spanish news publishers to help them increase their income.
"This was a very short-sighted move by Spanish politicians," Paul Ferguson, vice president of threat intelligence at IID, told the E-Commerce Times. "These news sources have just lost a very valuable ally in driving viewers to their sites, whether they realize it or not."
A Quien Dan No Escoge
Google's pledge was similar to ones it had made in France and Germany, where publishers also were demanding payment from the company for aggregating their content.
The German publishers had wanted Google to pay for snippets it took from their websites under Germany's "Ancillary Copyright" law passed in 2013. They had pushed this law to set up licensing fees for news aggregators.
Google responded by asking German publishers explicitly to opt in or be excluded from search results. They opted in but then filed an antitrust complaint.
VG Media, a consortium of 200 German publishers led by the firm Axel Springer, whose stable includes Bild and Die Welt, threatened to sue the European Commission in the EU Court of Justice if it found a deal being worked out with Google unsatisfactory.
The group's opposition eventually torpedoed the settlement.
The publishers later caved, however, and Axel Springer admitted it had made a mistake.
"Axel Springer, which is one of the largest publishers in Germany, experienced a 40 percent fall in traffic from Google results and an 80 percent drop in traffic from Google News," Gruia pointed out.
"The same thing will happen in Spain," he predicted, "but unfortunately, the law there doesn't offer the publishers any recourse."
The Publishers' POV
The publishers are "really hurting for revenue, and part of the problem is that people can get the content for free off the Web," said Rob Enderle, principal analyst at the Enderle Group.
Google "focused on making the content available and in securing their own revenue but did virtually nothing to share that revenue with many of the content owners," he told the E-Commerce Times. "That has become an unsustainable model, causing these content creators to fail."
However Google owns "much of the Web" and can fill the gap with content from elsewhere, "which penalizes the firms in countries that are trying to preserve their revenue," Enderle said. "This is likely one of the leading examples of Google misusing their monopoly power."