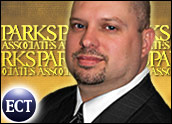 Those who cannot learn from history are doomed to repeat it.
— George Santayana
This adage is particularly appropriate in the market for consumer video formats and players. Consistently, manufacturers have been unwilling or unable to develop formats compatible over a broad range of CE devices, and consumers have suffered as a result.
It seemed, when the industry established a single (and ultimately successful) DVD format in 1994, that manufacturers had learned from the VHS/Betamax format conflict. Fast forward to the 21st century, and we find electronics manufacturers have not heeded Santayana's warning.
The industry has failed to agree on a single standard for HD content, the successor to the DVD format. While the HD DVD and Blu-ray formats have more similarities than differences, they are not interchangeable and have forced another battle similar to the VHS and Betamax clash of the 1980s.
Pitched Battle
Companies on either side of this format war are waging aggressive public relations campaigns that, if taken at face value, would lead one to think both formats are wildly successful. The truth is that neither format has pulled away.
Earlier in 2007, the Blu-ray format gained momentum with retail wins and the large installed base of PlayStation 3 owners. However, HD DVD picked up its own momentum when Paramount Studios announced exclusive format support and Toshiba and Microsoft offered player price breaks.
However, one stakeholder overall holds the key to adoption of the next-generation DVD format — consumers. In Global Digital Living II, Parks Associates studied various aspects of high-definition player adoption, perception, and purchase factors in 13 countries (Australia, Brazil, Canada, China, France, Germany, Italy, Japan, South Korea, Spain, Sweden, the United Kingdom and the United States), which provides some insight into the consumer role in this imbroglio.
Movie Viewing Habits
With broadband access continuing to increase around the world, services such as video-on-demand and pay-per-view continue to change the way content is delivered to consumers. However, in the near future, DVD content will continue to be the medium of choice to view entertainment at home.
For most countries in Europe and North America, consumers overwhelmingly choose to watch movies by either purchasing or renting an authorized DVD (or VCD). The exceptions occur in Asia. While consumers in Japan prefer to view movies via DVD, a significant percentage of consumers in China and South Korea view movies by downloading unauthorized copies.
Confusion With High-Definition Formats
While the future would seem bright for the adoption of high-definition video, the number of consumers who are familiar with the HD DVD and Blu-ray formats is small. When looking at all 13 countries Global Digital Living II surveyed, no more than 20 percent of Internet households are familiar with HD DVD or Blu-ray. China has the highest percentage with 19 percent. Germany also shows a high percentage of households familiar with HD DVD or Blu-ray at 16 percent.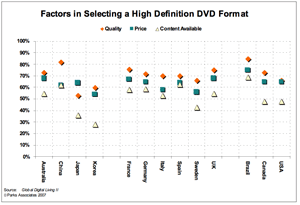 (click on image to enlarge)
It is significant to note that, in this study, instances occurred when consumers stated that they owned one of these next-generation DVD players, but they also said they were not familiar with either the HD DVD or Blu-ray formats. These results speak to consumers' confusion (and indifference) about the two formats.
Further evidence of this confusion comes when comparing the results for consumers who are asked about the likelihood that they would purchase an HD DVD or Blu-ray player versus consumers asked if they would buy a "high-definition player to play DVDs." Overwhelmingly, Internet households worldwide showed more interest in purchasing a next-generation DVD player when it was presented in a general description versus the specific designation as an HD DVD or Blu-ray player.
These data reiterate the fact that most consumers are not educated about the HD DVD and Blu-ray formats, do not care about specific brands, and are most interested in having access to a broad range of products that will provide them with a high-quality picture.
Success Factors for High-Definition Formats
Overall, consumers in a majority of the surveyed countries ranked "quality of the picture" as the most important factor in selecting a high-definition format. The exception was Japan, which valued the "price of the player" as most important.
Other factors that ranked consistently high, regardless of the country, included "the price of the player" and "the number of movie titles available." Two factors that received less attention included the "amount of extra video that can be stored on the disc" and "the brand of the player."
While other factors such as studio support and technology advances will have an impact on the adoption of next-generation DVD players, the providers of these products must ensure they are meeting the expectations and demands of consumers to be truly successful. Based on the Global Digital Living II findings, the companies that will be most successful in providing the next-generation DVD format will provide products and services that deliver a high-quality picture and offer a wide variety of content at a reasonable price.
---
Chris Roden
is a research analyst at
Parks Associates
.
---