Siftery on Thursday announced the launch of its new Product Alternatives search tool, which is designed to help companies find alternative B2B software products when replacements are needed.
The Product Alternatives tool allows users to search a database of more than 40,000 software options, Siftery said. Its artificial intelligence technology not only helps find suitable alternative products, but also ranks the various options. Recommendations take into account the products companies currently are using, as well as products that are in greater demand, based on trend data.
---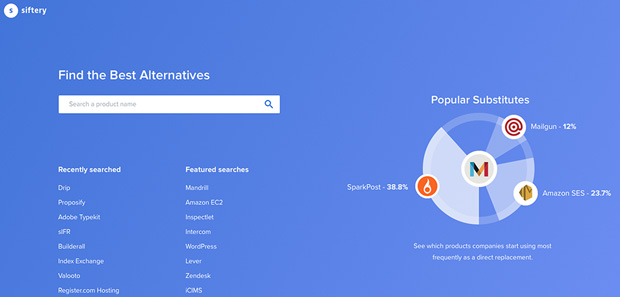 Click Image to Enlarge
---
"While we're building a best-in-class dataset of B2B software products and the companies that use them, what's even more interesting is building the tools and intelligence like this that can help more businesses find the software for their unique needs," said Ayan Barua, chief technology officer at Siftery.
Getting It Right
Companies, on average, use 20 different types of software at a time, noted Gerry Colyer, head of growth at Siftery.
Large enterprises sometimes use hundreds of different types of software, he told the E-Commerce Times, which can lead to added expense, redundant spending and other inefficiencies that need to be analyzed.
Siftery's engine uses artificial intelligence and machine learning to recommend the right software for a company, using specific algorithms based on a variety of inputs including size, industry, geography, whether it's a startup or a more mature company, and other relevant factors.
The company analyzes data from nearly 1,000 substitute applications, including programs like Mandrill, Amazon EC2, Inspectlet, Intercom, WordPress, Lever, Zendesk and iCIMS. The data includes some interesting findings: Google Cloud Compute is the leading substitute for AWS EC2; Greenhouse and Lever are the top two competitors in the recruiting/ATS space; companies that want to replace iCIMS most often turn tp Oracle Taleo.
Track Meet
Siftery also has developed a premium product that is currently in beta, Siftery Track, that automatically tracks the software and cloud services companies are paying for. The program is designed to help users track real-time spending, identify duplicate payments, and discover apps they pay be paying for but no longer use.
Siftery Track allows companies to synchronize accounting software like QuickBooks or Xero, as well as credit card and bank account information, with the software spending platform.
Siftery aims to give companies a window into some of their most important business decisions — notably, where they are spending or leaking money — and to help users discover ways to become more productive.
Reducing Complexity
"At its core, Siftery is aiming to reduce the complexities of an increasingly complicated B2B software market," said Charles King, principal analyst at Pund-IT.
"With some 40,000 B2B software applications currently available, if a company decides to adopt a new program or migrate away from an existing platform, what to choose next can be difficult to the extreme," he told the E-Commerce Times.
However demand for Siftery's product will be limited, suggested Paul Teich, principal analyst at Tirias Research.
"Siftery looks like it will be helpful when an organization first deploys a new class of application, or when an organization is no longer satisfied with an app it is already using," he told the E-Commerce Times.
Companies may turn to it when they find that a certain application is too expensive, outdated or useful, Teich said, "but those are infrequent transitions for any organization. After the first choice, it may be years before any organization reconsiders its choice, and then only under duress."