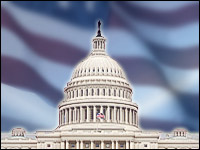 A new trade group called "The Internet Association" has been formed to represent the interests of large Internet companies. It will begin operating in September, with Michael Beckerman, a former adviser to the chairman of the U.S. House of Representatives' Energy and Commerce Committee, serving as its president.
Though Beckerman has not yet confirmed the companies represented by the association, a Reuters report suggests they will include Google, eBay, Facebook and Amazon. These companies declined our requests to comment for this story.
The association will likely deal with the full gamut of political and regulatory issues that have faced Internet companies over the last several years, including copyright protection, privacy, cybersecurity and sales tax collection. Its goal will be to educate lawmakers about these issues and represent the interests of the companies involved.
"I believe that companies are taking the initiative to get in front of issues that are important to users globally," Internet marketing consultant Cory Jaccino told the E-Commerce Times. "This is not just an American thing. These companies are doing this all around the globe."
An Industry Matures
The formation of The Internet Association might be seen as a sign that the industry has matured and reached a point that it needs a unified voice in Washington and beyond.
"It's signaling that this industry is getting political," Jeremiah Owyang, an industry analyst with the Altimeter Group, told the E-Commerce Times. "It's a sign that politicians will be lobbied by this group. It's a sign of maturity."
After the recent battle against the Stop Online Piracy Act and other threats to their business models, Internet companies have likely realized that it's in their best interest to band together.
"Especially after SOPA, the main issue is around censorship of content by government organizations, both foreign and domestic," said Owyang. "These companies want to be in control of their content."
Speaking for Whom?
One way of looking at the association is that it represents the voice not just of the companies involved, but of citizens themselves.
"The recent global user-backed initiatives like the protest of Internet censoring earlier this year has shed light on the fact that we need a constant body to stand up for voter interests," said Jaccino.
"We don't need to band together at the last minute whenever policy is being voted on," he said. "We need to help shape policy, and that is what these companies are trying to do. I'm not saying that we need more government. I am saying that governments need to listen to what their voters are saying both online and off."
On the other hand, these are large companies with billions of dollars at stake, and the function of this association might be the same as that of any other big business trade group: to protect the monetary interests of an industry — particularly when those interests rely on the accumulation of consumer data.
"It's absolutely not about protecting consumers' rights," Tim Bourgeois, a partner at East Coast Catalyst, told the E-Commerce Times.
"They're going to make a case that they're responsible users of data, that it's a good thing for consumers. The thing about this data is that nobody knows what it's really worth, but everyone is speculating that it's worth a king's ransom," he said.
This group will, at any rate, represent the evolving interests of new media.
"It's the old business model versus the new business model," IT consultant Bill St. Arnaud told the E-Commerce Times. "The old business model is going to disappear."
Taking the Heat Off
The association will also take the pressure off individual companies, so that they don't have to speak for themselves, defend their actions, and get enmeshed in messy political and regulatory battles.
"It takes the PR heat off individual players," said Altimeter Group's Owyang. "Now it can be pushed off on an organization."
It remains to be seen what battles The Internet Association fights and how it fights them, but there's little question that it will help to shape Web-related public policy debates from now on.
"By standing between the voters and the issues, I expect them to be able to guide the issues and/or public opinion within their respective audiences," said Jaccino.
"If they are smart, they will take an advocate or educational role with their users to gain their trust and become the users' go-to source for information," he suggested.
"As these companies gain user trust, acceptance [and] participation, they will become the voice of their user base," Jaccino pointed out. "The louder the voice, the harder it will be to ignore."