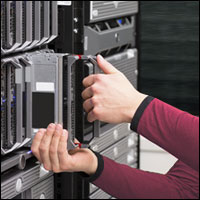 The U.S. government could save billions of dollars in the management of information technology resources by significantly improving outdated and overworked networks.
Federal agencies are making progress on a series of five key IT initiatives designed to improve the management of IT resources: data consolidation, virtualization, cloud computing, remote access and infrastructure diversification.
However, they could save an additional 24 percent of their IT budgets — or approximately US$19.7 billion annually — by fully exploiting the savings that these initiatives potentially can generate, federal IT network managers said in a recent survey conducted by MeriTalk.
Survey respondents identified networks as the IT infrastructure component most vital to enabling efficiencies and cost-savings opportunities, but two thirds said their networks were ill-equipped to meet their mission needs, let alone support new technology initiatives.
Network issues such as poor connections, service disruptions or downtime impacted their agency mission at least bimonthly, the majority of respondents said.
On average, they would have to increase capacity by 26 percent to support the five key infrastructure initiatives and realize long-term savings, the managers said.
"Federal agencies should focus on the network to improve capacity, connections, reliability and security, and consider moving systems and applications to the cloud to generate additional savings," said Anthony Robbins, vice president, federal, for Brocade, which cosponsored they survey.
Network Capacity Demand Grows
"These agencies need to upgrade network performance not only to meet current requirements but also for future IT demands. The number of federal employees may remain relatively static, but the number of devices they use is proliferating rapidly with laptops, tablets and phones," Robbins told the E-Commerce Times.
"In addition, the demand for more and better data is growing, and that requires networks capable of meeting the demand," he said.
There are several actions agencies can take to improve network capacity and performance. The most obvious is additional investment in network capability. However, that doesn't mean agencies need bigger budget appropriations and additional new money to invest in networks. In fact, the opposite is the case right now and for the foreseeable future.
"Even though we are going through an era of constrained federal budgets, agencies have tremendous potential to generate funds by operating more efficiently and using the savings for investments in networks," MeriTalk founder Stephen O'Keeffe told the E-Commerce Times.
"One thing the federal government can do is to simplify the network structure. There are an estimated 15,000 networks just used within the Defense Department. That's just too complex and creates too many layers and involves too many non-standard operations," Robbins said.
"Until we get proprietary protocols out of federal networks, the future will look like the past. We need to open standards to unlock real savings. These standards will open up competition — which will allow the federal government to get better pricing and value for its investments. These standards will pave the way for a software-defined future and the network virtualization which is critical to unlocking new capabilities and driving down costs," he explained.
"Efficiencies are also possible with Network as a Service arrangements," Robbins added.
The idea of simplifying government operations goes well beyond networking and can make a positive contribution to information technology investments, O'Keeffe said.
"There is no reason why the federal government needs more than 600 human resources programs or more than 700 separate supply chain programs. These can all be consolidated and simplified and generate a lot of savings which can be reinvested in networking and other IT solutions," he suggested.
Vendor Competition Needed
Another factor affecting network performance is the inefficiency of relying on a single vendor.
An "increased supplier base results in greater competition, which leads to more room for negotiation and lower prices," O'Keefe pointed out.
"On average, government agencies spend 83 percent of their network hardware budget on one single vendor. As a result, most federal network spending goes to support legacy infrastructure — allowing the outdated networks to smother them. Very little is left for new investment, leaving networks slow, outdated, and tightly proprietary. This is an expensive way of operating," Robbins said in an advisory blog aimed at federal agencies.
MeriTalk conducted an analysis that applied Gartner data on savings that result from multiple vendors to federal agency budgets. Agencies could save $1.05 billion per year by adding just one additional network vendor to their infrastructure — $590 million in IT hardware and equipment, $190 million in annual maintenance, and $270 million in network services — the analysis found.
That would provide long-term budget relief and free up resources to allow for more innovation, modernization, and general network advancements, Robbins said. Yet only 15 percent of agencies were fully diversified in their IT supply chains.
The Federal Buzz: FHA Technology; Security Review
Business Process Contract: KPMG and Salient Federal Solutions will upgrade the Federal Housing Administration's IT operations under a contract potentially worth $94 million over five years. The contract will support FHA's Mortgage Risk and Fraud Initiative. FHA is an agency within the Department of Housing and Urban Development.
As the prime contractor, KPMG will help FHA "identify and correct deficiencies in FHA's systems, processes and programs that create unnecessary risks to the stability of FHA's insurance funds, and to implement new solutions that increase security and efficiency," Rob Dwyer, managing director for KPMG's HUD account, told the E-Commerce Times.
"These new solutions and business processes will span the loan lifecycle, from origination and endorsement through asset management, and include the management of FHA's business partners," he said.
Salient will provide its software engineering capabilities and experience with HUD to help modernize, operate, and maintain the applications that the agency uses for its housing portfolios.
Cryptographic Review: In an effort to assess the adequacy of its cryptographic standards and development process, the National Institute of Standards and Technology has appointed three corporate experts to a review panel: Vint Cerf, chief Internet evangelist at Google; Steven Lipner, partner director of software security at Microsoft; and Ellen Richey, chief legal officer at Visa.
Other members: Edward Felten, Princeton University; Bart Preneel, Katholieke Universiteit Leuven; Ron Rivest, Massachusetts Institute of Technology; and Fran Schrotter, the American National Standards Institute.
NIST last fall initiated a review of its cryptographic capabilities in response to public concerns about federal security leaks and related issues.