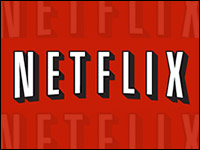 Netflix last week announced it will crack down on members using proxies or unblockers to access titles from overseas.
That follows the company's announcement at CES 2016 earlier this month of a global rollout that has it offering streaming content in 190 countries.
The problem is that not all of Netflix's content is available globally, said David Fullagar, vice president of content delivery architecture. It's making progress in licensing content around the world.
"This isn't something Netflix wants to do; it's something they're required to do by contract," said Rob Enderle, principal analyst at the Enderle Group.
That's because content owners offer different licenses for different countries, so not all programs are available at the same time in every place.
Mexico had the greatest number of titles, more than 9,000, as of November, according to aStrategy Analytics survey.
The United States had more than 7,000, while Germany had "just under 2,000 titles available," said Michael Goodman, a research director at Strategy Analytics.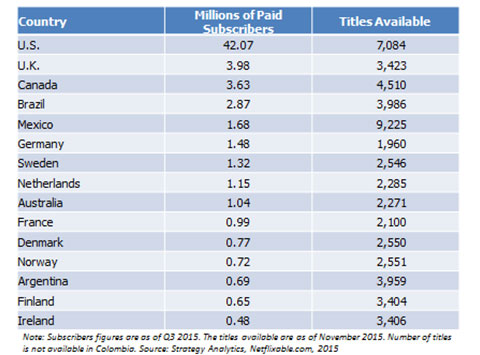 The Angst of Rights Holders
"This wide range of availability impacts rights holders, who are very picky when content they own is available in other countries and they're not paid for that," Goodman told TechNewsWorld.
Licensing content to Netflix and other streaming services such as Amazon Prime's Instant Video is a fast-growing source of high-margin revenue for content owners, including Time Warner, Walt Disney, Viacom and Discovery Communications.
However, that's hurting traditional TV ratings, which drive ad revenue, and giving pay-TV subscribers more incentive to unsubscribe.
"Rights holders feel they're underpaid because they don't have visibility into consumption on Netflix, while Netflix does, and, when you're sitting down at the negotiation table, information is king," Goodman said.
"Relations between Netflix and content owners are a little dicey at this time so, if Netflix can do things like ensure you're not accessing content by spoofing your VPN, they can do something about that, and this improves relations with the content owners," he pointed out.
Content owners will demand more information about distribution and consumption as Netflix expands to more countries, Goodman observed.
Maneuvers in the Dark
It's not possible to ascertain how much of a problem proxy viewing is.
"I'm not sure if this is using a sledgehammer to kill a bug or if it's a real problem," Goodman said. "It's like piracy — hard to figure out and people won't tell you if they're spoofing."
Controlling Access
Netflix admits attempts to control illicit access through proxies are a cat-and-mouse game.
The company's "working off blacklists for the most part that are tied to IP addresses," Enderle told TechNewsWorld, and VPN services "should be able to rotate addresses to get off the blacklist."
There is no way to limit viewership by location absolutely, he pointed out. "Folks in China have been able to get around the Chinese blocks for some time, and China has far more capability to control what their citizens view than Netflix does its users."
Ultimately, trying to control the distribution of content "is a losing game because it's a leaky system," said Mike Jude, a research manager at Frost & Sullivan. Content's "going to leak anyway as soon as it's out on some sort of media."
A new pricing and revenue model is needed, he told TechNewsWorld.
It could be cloud-based. For example, Comcast subscribers can purchase content that's stored on the company's servers and can view it at any time, instead of having to purchase the DVD, Jude remarked.
"Streaming is the new broadcast environment and it's leaky in different ways, but it has many of the same characteristics," he said. "All of this maneuvering is signaling that we're ripe for some new paradigm for consumption."