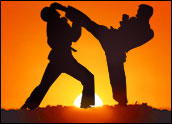 GoDaddy, the Internet's largest registrar of domains, would like the world to forget it ever supported the much-maligned Stop Online Piracy Act (SOPA) now before Congress.
Namecheap, the second largest registrar, wants to make sure the world never forgets it.
In recent days, the domain registering titans have clashed over GoDaddy's on-off support of SOPA. GoDaddy has withdrawn its initial support of the legislation aimed at protecting intellectual property from being pilfered by pirates on the Net, but that hasn't stopped Namecheap from finding ways to associate its rival with the proposed law that many in the high-tech industry find loathsome.
Namecheap's latest move is to declare Dec. 29 "MoveYourDomain Day." Although it never mentions GoDaddy by name, there's little doubt who Namecheap is talking about when it declares on its site:
"Some of our competitors support SOPA, despite the untold damage it can do to the Internet as we know it. Because of this, we're declaring Dec. 29 'Move Your Domain Day,' as a call-to-action for those who oppose SOPA and wish to leave service providers who support SOPA."
On that day, domain holders who switch their registrations to Namecheap can do so at below cost, $6.99 per transfer, with the coupon code "SOPAsucks." In addition, $1 from every transfer will go to the Electronic Frontier Foundation (EFF) to help fight SOPA and its Senate counterpart, the Protect IP Act (PIPA).
Failure to Communicate
MoveYourDomain is just the latest in Namecheap's actions to keep GoDaddy's past support of SOPA in the spotlight. Earlier this week, it claimed that GoDaddy was deliberately impeding transfers to Namecheap through administrative obstacles.
Namecheap accused its rival of returning incomplete Whois information to Namecheap.
Namecheap tied the delays to GoDaddy's past support of SOPA, asserting that domain holders were "voting with their dollars" by deserting the registrar.
GoDaddy discounted Namecheap's claims. It explained that it's a common practice for registrars to limit requests for Whois information to prevent the practice from being abused. To lift those limits, registrars simply ask that they be removed.
Namecheap apparently hasn't attempted to contact GoDaddy directly on the matter, according to GoDaddy Senior Director for Domain Product Development Rich Merdinger.
Despite Namecheap's asserted lack of communication, GoDaddy removed the Whois request restrictions, which appeared to put that issue to rest.
Shedding Image Difficult
GoDaddy pulled its support of SOPA following a call by an opponent of the measure for domain holders to transfer their holdings to other registrars if GoDaddy continued its pro-SOPA stance.
"It's certainly a case-study on how the Internet and social media have given customers a voice and influence like never before," Greg Sabey,senior technology PR manager at Kaspersky Lab, told the E-Commerce Times.
Kaspersky felt so strongly about SOPA that it terminated its relationship with the Business Software Alliance, an international organization representing software makers, over the group's support of the measure.
Although GoDaddy no longer backs SOPA, it has had a difficult time shedding its association with the measure. Rumors that while GoDaddy no longer supported SOPA, it supported its doppelganger, PIPA, forced the company to issue a statement denying support for either bill.
A statement by the company saying it was relinquishing its "leadership" role on SOPA combined with its continued appearance on an official list of supporters also fogged the issue — so much so that GoDaddy felt compelled to issue a press release when it was officially removed from the SOPA supporters list on Tuesday.
GoDaddy and Namecheap did not respond to our requests for comment on this story.
Unintended Consequences
GoDaddy's departure from the ranks of SOPA supporters is a sign that some companies backing the legislation may be rethinking their positions, according to EFF activist and blogger Trevor Timm. When they signed on to SOPA, "they didn't realize how it would affect their customers," he told the E-Commerce Times.
"GoDaddy saw that SOPA just didn't affect GoDaddy, it affects the whole Internet," he said. "Other companies may take note of that," he said.
"As they read more about this bill, they realize the consequences," he added.
Another recent flipper on the bill is the Graphics Art Guild, which initially backed the proposed law because it felt its members' intellectual property would be protected by it. After a second read of the legislation, however, the organization became concerned that the bill may do more harm than good.
SOPA is currently before the House Judiciary Committee, which is expected to act on the legislation at the end of January.