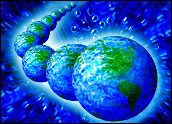 With Google being one of the most credible sources of information in the world and its number of searches reaching more than 6.8 billion per month, investing in search engine optimization (SEO) has become a necessity. Research has shown that users rarely go beyond the top 30 results on search engine pages; thus higher rankings are essential to increase online visibility and traffic.
When expanding into international markets, it is critical to understand that English is not used by the majority of Internet users — only 28.7 percent of the entire Web population uses English. Chinese is the Internet's second largest language, spoken by 321 million online users whose numbers have grown by 894 percent in the last eight years. Spanish, as the third most popular language on the Web, represents 131 million online users who are located not only in Spain, but also in Mexico, most of Central and South America, and a significant portion of the United States. Japanese, French, Portuguese and German are currently among the top 10 languages spoken by millions of Internet users around the world.
In order to speak to foreign audiences, translating content is a necessity, but translation is not enough. Localization into chosen languages is the first step of a multilingual marketing strategy that can substantially increase the number of potential clients. Every language has its own nuances that have to be taken into consideration when targeting users from different cultures. What people refer to as a "cellphone" in American English is called a "handy" in German, a "mobile" in UK English and a "GSM" in Belgium. These language distinctions influence Internet searches carried out by users of different nationalities and cultures, who use a variety of key phrases to look for the same service or product.
Choosing the Right Search Terms
With multilingual search engine optimization (MSEO), a business can make sure that its Web site is found by locals. As research has shown, Internet users prefer not only to buy in their own language but also to search the Internet using native keywords and phrases, typing them into local search engines such as the Chinese search engine Baidu.
Defining an MSEO strategy is a complex and time-consuming process. Most importantly, localization and MSEO should not be perceived as separate efforts. There are hundreds of companies that are dedicated to translation and localization in multiple languages that do not take into consideration SEO and its impact on localized content. It is crucial to understand that SEO is one of the keys to making a multilingual site successful, and it goes hand in hand with the Web site translation and localization process — which is why companies with MSEO experience combine these two essential disciplines to form a complete multilingual marketing strategy.
Every SEO strategy begins with thorough keyword research. In MSEO, however, this process is more advanced and challenging, as keywords must correspond to a specific country, culture and audience. While an American English speaker may utilize one main search phrase to find the required information online, a German speaker might use several synonyms. Therefore, SEO experts first analyze key industry terms and conduct linguistic research. Once they have the first list of keywords, they conduct a search engine search based on competition and popularity to then execute a full competitor analysis in the target language.
Multilingual keyword research should be an ongoing effort, as it is essential to regularly consult with product teams to determine new keywords and industry terms. Localizing content without proper keyword research will not give businesses the desired results. Understandable and culturally sensitive content is a must, but if key terms are not defined as well, a multilingual site will not be found by potential clients. To ensure high rankings, businesses should always think of incorporating MSEO before launching their multilingual Web site in international markets. Otherwise, conducting a full linguistic analysis of the Web site and retranslating it using the correct terminology and key phrases become essential and incur additional costs.
Using the right keywords in a foreign language offers many advantages. Ninety-three percent of people search the Internet in their native language, and there is a significant difference in competition between English keywords and multilingual keywords. While a popular phrase in English may get millions of search results, the same keyword in German or Spanish might yield fewer results and thus be much less competitive. Consequently, using well-selected key phrases can help businesses rank much higher in respective local search engines and reach a highly targeted audience.
Adjusting to Search Algorithms
The next step of any MSEO strategy involves Web site modifications and adjusting a Web site's multilingual text to fit the search engines' ever-changing algorithms. In addition, MSEO providers often need to add significant amounts of high-quality multilingual content to the existing Web site. Finally, suggested changes should be tested by a separate team that can provide an objective review of each change.
Translation and localization are essential parts of the MSEO strategy and require a team of experienced linguists to perform these tasks following SEO-guidelines. Final content localized exclusively by native speakers should be accurate, appropriate and clearly understandable to a target audience. (The nonprofit Globalization and Localization Association maintains adirectory of professional translation and localization providers.)
Once a Web site is successfully localized and optimized, it's important to focus on offsite MSEO, which involves obtaining links from high ranking multilingual Web sites, directories and news channels. Press releases are one of the most effective SEO marketing tools that can help establish online visibility by increasing rankings for chosen keywords. Numerous MSEO providers specialize in writing SEO-oriented press releases and distributing them through various local multilingual PR channels.
MSEO involves several steps and elements but, if implemented correctly, it is a relatively fast technique for branding and expanding any business in international markets. MSEO should be seen as a long-term strategy for creating business opportunities that were previously beyond reach.
---
Orad Elkayam
is the owner and founder of
MO Group International
, a multilingual search engine optimization and localization company based in Brussels, Belgium. MO Group is a member of the
Globalization and Localization Association
(GALA), a nonprofit, international industry association for the translation, internationalization, localization and globalization industry.
---