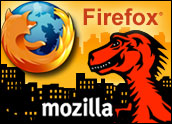 The uproar that erupted over Mozilla Foundation cofounder Brendan Eich's appointment as CEO of its subsidiary Mozilla Corp. and resulted in his stepping down earlier this month perhaps was symptomatic of the troubles the foundation is going through, in that opposition to his taking the post had both political and technological dimensions.
Mozilla, which prides itself on being different from the hide-bound corporate cultures behind the other browsers, came a cropper politically when gay developers at Teamrarebit expressed their opposition to Eich's appointment on the grounds that he had contributed US$1,000 to Prop. 8, a 2008 anti-gay marriage California constitutional amendment.
Three of the Foundation's six directors left over Eich's appointment as CEO, reportedly because they felt he was not the correct person to lead Mozilla into the brave new world of mobile technology whose waters it has begun dipping its toes into.
Chief Marketing Officer Chris Beard was named a board member and the company's new acting chief executive on Monday. How the other board vacancies will be handled and whether Beard's appointment will be made permanent are uncertain.
In other developments, hackers at the Pwn2Own conference, held last month in Vancouver, found tour zero-day vulnerabilities in Mozilla's Firefox browser.
Meanwhile, Firefox has been losing market share steadily, with Netmarketshare showing it has only 17.26 percent of the desktop browser market.
Given all these issues, the questions of whether Mozilla can survive, and how, are assuming increasing importance.
The Politics Around Eich
Teamrarebit's anti-Eich blogpost was followed by an online petition calling on Eich to reverse his stance, resign or be replaced, launched by Credoaction.com.
Some Mozilla employees reportedly demanded Eich's resignation, and online dating site OkCupid called on visitors using Firefox to switch to another browser.
Mozilla Foundation cofounder Mitchell Baker, who initially stood had behind Eich, submitted to the inevitable earlier this month, announcing Eich had relinquished the CEO post.
Credoaction.com and some others opposed to Eich's appointment welcomed the move, but Teamrarebit was lukewarm, calling it a "sad victory" and pushing for an apology. In other words, the fight wasn't over.
Many have criticized the pressure that forced Eich to resign.
Eich's Technological Chops
Eich is one of the world's technological elite. He created JavaScript, a scripting language, for the Netscape Navigator Web browser, in 10 days.
Before that, he accomplished the first MIPS R4000 port of the Gnu Compiler Collection, a key component of the GNU toolchain, while at MicroUnity Systems Engineering.
Still, Eich might not possess the skillset required to take Mozilla into the mobile world, where he lacks both work experience and knowledge of the market.
Mozilla has set up partnerships to develop an inexpensive smartphone running the Firefox OS for sale in the developing world and in March introduced seven new devices and announced new partnerships.
However, the competition from inexpensive Android devices from white-box manufacturers in China, who already are grabbing a large share of the market, is keen.
Android accounted for 78 percent of smartphone OS shipments in 2013, with most of the growth coming from forked versions of the OS, mainly in China, India and adjacent markets, ABI Research found.
"There are so many options and so many vendors vying for a piece of the pie that garnering carriers, developers and consumers' attention ranges from difficult to impossible," remarked Charles King, principal analyst at Pund-IT.
The Lure of Filthy Lucre
Mozilla's purist stance may hamper it in the smartphone market.
"If a browser is just there to augment the user's activity and isn't that helpful about gleaning more information about the user that can be used to serve up ads, then it's not going to be too useful to carriers and businesses," Mukul Krishna, senior global director at Frost & Sullivan, told TechNewsWorld.
"Operators and businesses will have to want a browser because it will help their business model," Krishna continued. "If Mozilla can prove that, it can get a better foothold in the market, which is critical for its continued growth."
Fighting Tomorrow's Battles Today
Further, smartphones are becoming commodity items, and the trick to winning market share is not to fight yesterday's battle, which is what the bid to make an inexpensive smartphone constitutes, but to look ahead.
"I would look for someone more familiar with the embedded world, because that's where the industry is heading with Internet of Things applications," Jim McGregor, principal analyst at Tirias Research, told TechNewsWorld.
The Damping Down of Firefox
At Pwn2Own in March, a fully patched version of Firefox was exploited four times by attackers, each discovering a new zero-day vulnerability.
Mozilla's senior engineering manager of security and privacy blamed the number of hacks on Pwn2Own's large rewards for exposing vulnerabilities, according to Slashdot.org. Researchers made US$50,000 for each Firefox vulnerability discovered, whereas Mozilla pays researchers $3,000 per vulnerability.
However, "they are innovating fast, and it is affecting the quality overall, plus the user interface," Al Hilwa, a program director at IDC Seattle, told TechNewsWorld.
The Battle Goes On
Eich quit both the CEO post and Mozilla voluntarily, and was not fired, asked to resign or forced out by employee pressure, according to Mozilla, which pointed out that "less than 10" of its 1,000 employees had called for his resignation, while a larger number had supported him in the CEO's job.
The board members who left did not resign over the Prop. 8 donation, Mozilla said, but it has not addressed rumors they quit over concerns about Eich's technological chops.
The next focal point of interest will be Eich's permanent successor.
"Mozilla is under the microscope," Frost's Krishna remarked.
"Whom they bring in to take over the leadership and what's going to be their next move, especially when it comes to mobility, will give the market a good indication of its survivability," he added.
"Appointing Chris as our interim CEO is a first step in this process," said Baker in announcing Beard's appointment. "Next steps include a long-term plan for the CEO role, adding board members who can help Mozilla succeed and continuing our efforts to actively support each Mozillian to reach his or her full potential as a leader."