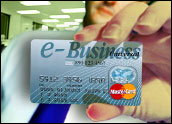 Google Wallet, bitcoin and other payment systems have spent years trying to oust the credit card as the be-all and end-all of payment methods. Publications and pundits everywhere have been quick to hail new technologies as "credit card-killers," and they're not without justification. As a payment method, the credit card has lost whatever futuristic luster it may have once had. Magnetic stripes wear out, plastic snaps in half, and the incessant manual inputting of 16-digit numbers eventually gets tiresome.
However, when it comes to new payment platforms like Apple Pay, are mobile wallets really that much more convenient than usual transaction methods? Sure, credit cards take up space in wallets, but scanning a fingerprint isn't really that much more convenient than swiping a card. So while they're definitely a bit more helpful, mobile wallets aren't doing enough in stores to really kick off a proper revolution.
One surprising aspect about Apple Pay isn't its application in the physical space, where it's been emphasized most. The potential for mobile wallets could have a profound impact on the world of online transactions — and while the technology is still evolving, mobile wallets are more than just credit card killers.
There are three ways that mobile payments won't just help, but will revolutionize e-commerce.
1. Notable Convenience
Apple Pay's online payment capabilities are significant. Transactions that previously required a credit card number, address, security code, and other various inputs now require only a simple fingerprint touch. On top of that, those payments offer the same security that comes with use in physical spaces. Since Apple Pay stores credit card information in its secure element, it is safer and more efficient than using a card number with the online retailers.
When it comes down to it, mobile devices are more flexible shopping tools than desktops. Equipped with cameras, GPS capabilities, and a more portable form factor, they're already beginning to enhance the shopping experience. Now, as mobile wallets make payments through these devices much simpler, it's likely that mobile payments as a primary means of payment will see major growth in the coming years.
2. Bring Mobile Commerce to Prominence
Last year, Shopify announced that mobile payments accounted for more than 50 percent of e-commerce traffic. The caveat, of course, was that conversion rates lagged far behind browsing numbers. The reason for this disparity was that "entering your credit card details and personal information on a small screen still causes a lot of friction," said Shopify CEO Tobi Ltke.
Because of mobile wallets, the days are now gone when mobile shoppers had to fill out pages of forms on bite-sized keyboards just to buy small items online. With the one-two punch of high e-commerce traffic and improved transactional convenience via mobile wallets, the sky is now the limit for mobile commerce. Expect to see people make use of mobile-optimized buy buttons, with transactions just a finger tap away.
3. Give Retailers Choice
One way that mobile wallets and online retailers will complement one another is by creating a platform for competition. There's already been a major ongoing saga between CurrentC and Apple Pay, and chances are good that these types of conflicts will pop up frequently as different parties attempt to change payment channels in ways that achieve their own ends. As more players begin to enter the fray, anticipate an increase in competition in the space, which is a good step for making this technology less expensive and easier to implement for different retailers.
This competition is especially helpful for online retailers, who will be able to choose among platforms like Amazon Payments, Apple Pay and PayPal. When Apple Pay launched, for instance, Google Wallet usage actually spiked. While Apple may have revived the mobile payments conversation, it's far from establishing a monopoly in the field. As new payment platforms sprout up to disrupt the landscape, transaction fees will decrease, and consumers will have more options to pay for products and services.
Beyond being credit card killers, mobile wallets have the potential to change the way transactions are viewed across physical and digital spaces. While brick-and-mortar transactions may have received the most attention when it comes to mobile wallet efficiency, the technology really shines in the realm of online shopping, where diverse payment methods provide a boon to convenience. For those who were not convinced about the power of mobile commerce before Apple Pay, this should be a major sign: If one-click checkouts seemed convenient, just wait until shoppers realize what one tap can do for them.