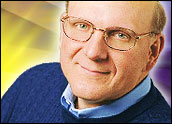 Windows 8 is the torpedo that sunk Steve Ballmer, the headlines have been screaming. The news we were all expecting finally arrived last Friday with the announcement that Steve Ballmer would step down as Microsoft's CEO. Now the question is who will replace Ballmer — and will that person be the right choice? I have an important recommendation for Microsoft in this process.
If the company gets this right, it can return to a successful growth track. If not, it will continue to struggle and flounder as it is doing today.
First a word about Ballmer. I have been reading too many complaints. The truth is Ballmer was one of the keys to growing Microsoft into the giant it is today. He was hired by Bill Gates in 1980 and became Microsoft's 30th employee. No one can lead forever. New blood and new thinking are needed — it's as simple as that.
So what's the solution?
Workers First
I think Microsoft and its new CEO should follow the lead of Herb Kelleher, former CEO of Southwest Airlines. Kelleher always said workers come first. Happy workers take great care of customers, and that makes shareholders happy. It all starts with focusing on the worker, which benefits the customer and then the investor. Period.
If Microsoft can understand this and can transform its thinking, it can quickly become a winner in today's marketplace. If it doesn't, well, expect more of the same. It all depends on whom it chooses for the top spot and whether this Kelleher idea is embraced.
This would be a complete reversal of the way Microsoft has always operated — the way it thinks. It has always focused on the investor first. Workers and customers were lower on the totem pole. That is one key reason for the company's failure to grow during the last decade. The marketplace has changed — Microsoft can no longer dictate terms.
Can the company change? Can it both choose the right new CEO for the next decade and change its focus to workers, customers and investors? Yes it can. Will it? That is the million-dollar question. Does Microsoft understand what I am saying here? I believe this is the key to whether it succeeds and grows going forward — or not.
Will Microsoft find the right next CEO? That is an important question. Not every CEO is right or successful. We have seen many who have not turned around their troubled ships during the last decade or two.
Blackberry is still struggling under a new CEO. Sprint Nextel has replaced its CEO twice. Motorola struggled with various CEOs for many years, and Yahoo struggled with CEO after CEO trying to find a successful path once again.
The good news is there are plenty of winning leaders at hot companies like Apple and Google. Just look at how suddenly Yahoo's Marissa Mayer is winning so far. A winner like that is what Microsoft needs to find.
Time for Transformation
Microsoft's new CEO should be very different from Gates or Ballmer, who represent another era. In today's marketplace, there is growing competition and new technology, and the marketplace changes on a regular basis. You need to find someone who understands and lives life at that pace and who understands workers and the customer.
Microsoft can no longer expect to dictate terms to the marketplace. Look at AT&T, for example. In the late 1990s and early 2000s, long-distance giant AT&T was dying until it was acquired by San Antonio, Texas-based SBC. That was the beginning of the turnaround. After it acquired Cingular and Bellsouth, the company started to win once again. Now it leads. That's the kind of change Microsoft needs to go through right now.
Will the new CEO be found inside Microsoft or come from the outside? Microsoft has lost many key executives over the last several years, which is not good. Its current executives have been trained in Microsoft thinking: investors first. This needs to change.
It isn't enough for the new CEO alone to understand this — the entire organization must change. The genetics of Microsoft must change. Is that possible? Yes. Whether it will it happen is the question.
Based on what we have seen from Microsoft up to now, I would say its chances are not good — not at first, anyway. It may need to fail for a while and go through several CEOs and get kicked around enough to finally understand.
Of course, it would be nice if it could understand what I am saying now, and get to work now. Then it could recover quickly, start to win, and lead the industry once again.
High Stakes
Even though Apple is a huge and rapidly growing company over the last decade or two, it still focuses on the worker and the customer first. Remember when Apple customers would line up around the block to get their hands on the next updated iPhone?
That can happen with Microsoft if it takes advantage of this opportunity — not only to change the leadership, but also to change the focus of the company, and to innovate like crazy.
Will it see what I am saying and seize the opportunity? If so, Microsoft could transform itself overnight. Wouldn't it be nice to see Microsoft succeed and grow like Google once again?
The future is at stake for Microsoft. Let's hope it makes the right choices going forward.