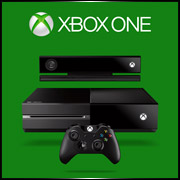 Checking another item off its to-do list, Microsoft on Wednesday announced an update to its latest Xbox One console: support over-the-air television broadcasts. A TV tuner is necessary to pick up OTA signals, and Microsoft has partnered with Hauppauge, which provides one that can do the job.
The OTA update, a chart topper at Xbox's Feedback site, is live immediately for Xbox One Preview members in the U.S. and Canada. Those ready to integrate local TV broadcasts into there Xbox One experience will need to hook up a TV tuner. The recommended Hauppage tuner is available for US$79.99, though a $59.99 version will be available in the coming months, when the functionality becomes available to everyone.
The TV tuner allows Xbox One owners to interweave TV broadcasts into their console's gaming experience. They can check in on a baseball game while waiting for a multiplayer match, for example, or Skype while watching breaking news, suggested Xbox Spokesperson Amanda Barry.
"We wanted you to enjoy the smoothest TV experience alongside your gaming on Xbox One, whether you're using on-demand apps like HBO GO, Netflix, Comedy Central and Hulu Plus, or streaming live TV apps like Verizon FiOS TV, streaming live Internet TV from Sling TV, or watching live TV through your cable or satellite box," she told the E-Commerce Times.
Best of Both Worlds
Support for OTA broadcasts will give the OneGuide a bit more work. Xbox One's OneGuide aggregates all of a user's available channels into a single guide, with a MiniGuide that delivers social content such as tweets.
OneGuide users can select favorite channels, pause live TV, and stream OTA content to devices running Microsoft's SmartGlass software. The SmartGlass software, and now the OTA channels it supports, is available for Windows, Windows Phone, iOS and Android devices.
The Xbox One has a DVR for the gaming side of things, which was launched about a year ago, but such a feature is unavailable for TV shows. The Xbox One team hasn't ruled it out, however.
In the meantime, "users can use their voice, Wireless Controller, or Media Remote to play and pause their live-TV content," Barry said. "We are continually looking at opportunities and technologies to support DVR, but don't have anything else to share at this time."
The Cord Holds
For some Xbox One owners, support for Dish Network's Sling TV service delivered right-size channel packages at an enticing price.
With a healthy library of games and a few subscriptions to on-demand services like Netflix, Sling TV's skinny package of premium channels provided enough inducement for some Xbox One users to take the kitchen shears to their coax cables and cable contracts. However, for those who found Sling TV didn't offer enough to warrant untethering themselves from cable TV, the OTA update will fall short as well.
It may go a long way in terms of spreading goodwill to the Xbox community, noted Roger Entner, founder and lead analyst at Recon Analytics — but it won't sell consoles.
"I don't think people will drop cable in droves," he told the E-Commerce Times. "This is a very slowly changing market. You could already connect an over-the-air antenna to your TV. This just enables you to use it through your Xbox One. I think, in the end, it will not make a measurable difference."