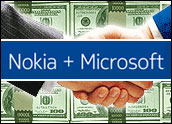 Microsoft-owned Nokia created some fireworks over the holiday weekend by making the Lumia 635, sporting Windows Phone 8.1 , available with T-Mobile's Simple Choice prepaid plan over the Home Shopping Network.
The first device to feature personal digital assistant Cortana, it will be available directly from T-Mobile this Wednesday and from its MetroPCS subsidiary later this month.
The 635's "advanced features, functionality and design — combined with its amazing price point — make this an absolutely screaming deal," enthused Jason Young, senior vice president of marketing at T-Mobile.
He's at least half right — the price is good. However, Microsoft is targeting an audience for whom "features aren't as important as price, distribution and ease of use," Carl Howe, a research vice-president at the Yankee Group, told the E-Commerce Times.
HSN is offering the phone for $US119.95, which can be divided into as many as four payments. It will become available on Wednesday from T-Mobile's website for zero down and $7 a month for 24 months with a postpaid T-Mobile Simple Choice Plan. For those willing to wait a little longer, it can be had on July 16 at T-Mobile brick-and-mortar stores, and on July 18 from MetrooPCS for a promotional price of just $99.
The Lumia 635 "would shine where price sensitivity and quality of response for that price is an issue," remarked Will Stofega, a program director at IDC.
What the Lumia 635 Offers
The phone has a quad-core CPU, but the processor is a Qualcomm Snapdragon 400, which was released last year and runs at 1.2 GHz, which doesn't make it a road racer.
The 4.5-inch IPS LCD capacitive multipoint touchscreen has a resolution of 854 x 480 pixels and is made from Gorilla Glass 3. It offers a wide viewing angle and uses ClearBlack technology.
The phone has an accelerometer and GPS.
It comes with a micro SIM port and a micro USB charging port. It supports USB 2.0, as well as Bluetooth 4.0, WiFi and LTE.
The phone has a 5 MP main camera with 4x digital zoom and autofocus. The front camera captures 760p HD video.
It comes with a ton of apps from both Nokia and Microsoft, including Microsoft Office, OneDrive and Skype.
Perhaps most anticipated is the inclusion in Windows Phone 8.1 of Cortana, Microsoft's personal digital assistant.
What OEMs and Carriers Want
"At the end of the day, a lot of OEMs and carriers are trying to capture that portion of the market that can't afford high-end phones," IDC's Stofega told the E-Commerce Times.
"The OEMs are trying to price the device very affordably for first-time phone owners or people who already have a phone and don't want to spend that much money on another device," he continued.
"This is a movement we're seeing, particularly in saturated markets," Stofega pointed out. The low end "is very important in both post-paid and prepaid."
Further, mobile operators want inexpensive devices like the Lumia 635 because "subsidizing high-end devices is a huge cost," Stofega said.
Further, consumers "may have a hunger for devices that won't cost them an arm and a leg."
The Thin Edge of the Wedge?
Microsoft could be implementing a canny marketing strategy by offering a device that has moderate features at a moderate price, Stofega suggested.
"If you take a niche, you get people that start to understand your ecosystem and change things a bit so the next time you have a better device, they may have you in mind. Microsoft is laying the groundwork now," he explained.
"I think Microsoft realizes that their best shot at capturing market share is [targeting] people who used to buy feature phones but are now upgrading to smartphones," Howe said.
It's not clear whether other carriers will get the Lumia 635 or when.