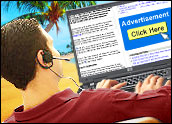 Microsoft has leapt into the brawl surrounding a recent proposal by the Federal Trade Commission to tighten restrictions on online advertising, responding with its own five-tiered plan for self-regulation.
In December, the FTC released a set of proposed principles to "guide the development of self-regulation" in online behavioral advertising and sought comments "from all interested parties on the proposed principles, including the costs and benefits of offering choice for behavioral advertising."
Microsoft's Five Pillars of online consumer protection will apply in the following cases:
when sites are involved in behavioral advertising;
when sensitive personal data is used;
when site visitors' data is collected for online advertising;
when ads are delivered on unrelated sites; and
when personally identifiable information is used.
The FTC Backstory
In its December call for comment, the FTC acknowledged that behavioral advertising benefits consumers through enabling free content and personalized advertising, and called for every Web site where data is collected for such advertising to have a clear statement about its information-gathering policies and give consumers the choice of whether or not to have their data harvested.
It also proposed that any company collecting or storing consumer data for behavioral advertising provide "reasonable security" for that data, which it should retain "only as long as necessary to fulfill a legitimate business or law enforcement need."
Other proposals: That companies get a clear yes from consumers before using data differently from what it said the data was being collected for, or collecting sensitive data such as medical information or information about children's activities online.
The FTC is also seeking comment on the definition of "sensitive data" and whether the use of sensitive data should be prohibited instead of letting consumers decide whether or not such data should be used.
It also is seeking more information about whether tracking data is being used for purposes other than behavioral advertising and whether such secondary users, if they occur, require more protection.
Beware of Vendors Bearing Gifts
This is not the first time Microsoft has outlined principles for protecting consumers online.
In 2007, Microsoft adopted standards called "Microsoft's Privacy Principles for Live Search and Online Ad Targeting," which were designed to promote greater transparency and give consumers increased control over their privacy.
However, Microsoft itself is a player in the online ad business — it paid US$6 billion last year to buy aQuantive, a major player; and it's believed to be wooing Yahoo to get that entity's online ad business.
Finally, in October last year, Microsoft CEO Steve Ballmer predicted in Paris that about 25 percent of the company's revenues would come from advertising over the next four to 10 years.
The Consumer Take
The FCC's call for responses has triggered a frenzy of filings, from the Interactive Advertising Bureau (IAB) and other organizations representing online advertisers as well as consumer organizations.
In its filing April 11, the IAB said that online advertisers use the same data collection and targeted marketing practices as offline businesses and that privacy protection is stronger for online data because it "is collected, stored and used anonymously."
Nonsense, said Mark Cooper, research director at the Consumer Federation of America, which filed its response April 10.
"The ability to gather data and target individuals is infinitely greater in the online market," Cooper told the E-Commerce Times. "If you look at the matrix TV advertisers use, they get demographics, and that's the finest, most granular level at which they can hope to target people. In the online world it's the individual clicks they want to count, and these are tied to IP addresses, so the difference is absolutely fundamental and astronomical."
Online advertisers should rein in their practices or prepare for real trouble, Cooper warned, adding: "If the industry persists in its utterly deceptive approach, it's going to find itself extremely heavily regulated as opposed to moderate regulation."