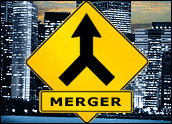 We've seen it happen before. The wave of companies rushing to merge is building once again. On Monday it was Verizon and Vodafone. Tuesday was Microsoft and Nokia. Two questions: What will merging do for these companies, and which are next?
The reason for companies merging is clear. The wireless world continues to change. Growth over the next few years will look much different from the last few years. The most recent wave of growth started six years ago with Apple's iPhone. Then came Google's Android operating system. Apple and Google transformed the entire wireless space, convincing consumers to switch from feature phones to super smartphones.
The next wave of growth, which is beginning now, will transform the industry once again.
The Sleeping Giant
BlackBerry led the smartphone space and Nokia was the leader of the feature phone pack until six years ago. Since then, both companies have lost their dominance.
BlackBerry has not been successful to date. Under CEO Stephen Elop, Nokia managed to stop its fall, partnering with Microsoft on the Lumia line of smartphones running the Windows Phone operating system.
Lumia may not be growing at the same rate as the iPhone or Android smartphones, but it is growing — just slowly. Was it partnering with Microsoft that helped Nokia stop falling, or was it Elop?
The next question is simple: Will the Microsoft-Nokia merger really crank up the growth engines of the Windows Phone OS, or will it continue to struggle at a very slow growth rate?
The wireless industry looks a lot like the hamburger business with McDonald's, Burger King and Wendy's slugging it out in the marketplace. In this case, Microsoft-Nokia is in a distant third for now.
Roughly 90 percent of the marketplace is owned by Android smartphones and Apple's iPhones. Microsoft-Nokia accounts for roughly 4 percent. As you can see, there is quite a big difference. There's a great opportunity for anyone who knows how to wake up the sleeping giant that is Microsoft.
The Nokia deal is one of Steve Ballmer's last big moves as CEO of Microsoft, and it could put Nokia CEO Stephen Elop at the top of the list of his potential successors. That may have been another reason for the acquisition.
Verizon's Victory
The other big news this week is Verizon's acquisition of Vodafone's stake in Verizon Wireless. This means Verizon will now be the sole owner of the company. While this is good news for Verizon, I don't think it will really make a lot of difference to customers.
That said, one thing that I really don't understand is what took Verizon so long? Waiting has cost it b-b-billions. The two companies formed their partnership a decade or more ago. Wireless was not as dominant as it is today. Back then, it was a wireline world.
Wireless is now the fastest-growing sector, and regular phone lines are vanishing. Every year that passes, Verizon Wireless is worth more. It would have cost Verizon much less if it had done this deal, say, five years ago.
One key reason for doing it now is interest rates are starting to rise. A low-interest rate costs Verizon much less — so now is the time.
This is a good deal for Verizon. The next question is what will it do with complete ownership? It will be interesting to see if anything new or innovative comes from this deal that will benefit customers, or whether it will simply make no impact on the marketplace at all.
What's next? We can expect many more deals in the wireless space going forward. Some deals will make sense — like deals between wireless handset companies — but other deals may be a surprise.
One possibility could be a company like Microsoft — which really wants to punch its way into the wireless world in a big way — getting interested in the acquisition of a wireless network. One company in all these businesses? Stranger things have happened.
Let's keep our eyes on both Verizon Wireless and Microsoft-Nokia — and in fact, the rest of the wireless industry — to see what's coming next.