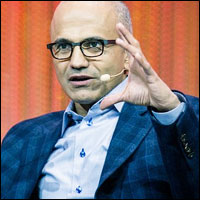 Microsoft CEO Satya Nadella may launch a massive round of layoffs, possibly as early as this week. Some details are still being worked out, unidentified sources with knowledge of the company's plans told Bloomberg.
Layoffs have been widely expected since Microsoft purchased Nokia, and Nadella's recent memo to Microsoft employees was viewed as a hint they might soon be at hand.
The layoffs are long overdue, said Mukul Krishna, digital media senior global director at Frost & Sullivan.
What's more important, however, is what the layoffs are going to achieve.
"Microsoft's structure needs to be more agile," Krishna told the E-Commerce Times. "The focus should be more on cutting-edge technologies delivered in a timely fashion, and Nadella's trying to structure the company so it can deliver effectively on his vision."
What Nadella Wants
Microsoft "will enable organizations to move from automated business processes to intelligent business processes" and "build tools to be more predictive, personal and helpful," Nadella said. The company's cloud OS infrastructure, device OS and first-party hardware will be designed to create a great digital work and life experience "with a focus on dual use."
The emphasis will be on mobile and the cloud.
The cloud will "let you streamline your teams much better," Krishna suggested, "and … reduce time to market."
Everything's Fair Game
"Nothing is off the table in how we think about shifting our culture to deliver on this core strategy," Nadella said. "Organizations will change. Mergers and acquisitions will occur. Job responsibilities will evolve … . Tired traditions will be questioned … . New skills will be built."
Nadella seems intent on dismantling the current dog-eat-dog culture prevalent in Microsoft, where — like all large corporations — it is not easy to present new ideas for a hearing.
"The old order might have worked at a particular time, but now the market is changing," Krishna noted, "so Microsoft must prepare for that."
Nadella has said that new hires would be made.
"They might hire others as part of their restructuring," Krishna said. "You have a vision, you have a plan, and now you are reshaping the company. In fact, Microsoft may be rehiring some people."
What the Layoffs Could Mean
Sweeping layoffs may not be a bad thing.
Microsoft "will be better served by a single, well-executed event rather than the continuing cuts companies like HP have instituted," Charles King, principal analyst at Pund-IT, told the E-Commerce Times.
Customers are not likely to be concerned with or invested in layoffs, because "the vast majority of Microsoft's business involves either core Windows or Office assets," King pointed out. "Everything beyond that is, figuratively speaking, small potatoes."
Meanwhile, investors are likely to be happy because "they want to see the stock move up, and that's what it's been doing under Satya Nadella," Laura DiDio, principal at ITIC, told the E-Commerce Times.
Best Case/Worse Case Scenarios
Nadella's reforms might play out in a number of ways — some good, some bad for the company.
The best outcome if massive layoffs are implemented is that Microsoft "gets traction and makes an impact," DiDio said. The worst outcome would be that Nokia's phone business "is a total flop and Microsoft has to exit the mobile phone business altogether."
The best case, according to Pund-IT's King, would be that Nadella "transparently executes a detailed and well-considered plan that impacts its targets in ways that customers, shareholders and employees find understandable and even agreeable," and lets it move ahead successfully.
The worst case would see Nadella announcing a plan that's hard to describe and defend, and that "includes numerous issues to be determined at a later date," King said. "That would leave shareholders distrustful, employees dispirited and partners discommoded, and all of them waiting for the other shoe to drop."