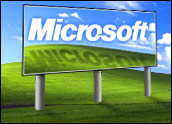 Based on the underperformance of its online services division, Microsoft announced Monday that it would be taking a write-down of US$6.2 billion.The non-cash, non-tax-deductible income statement charge for the fourth quarter of fiscal year 2012 is for the "impairment of goodwill" related primarily to its 2007 $6.3 billion acquisition of aQuantive, Microsoft said.
In short, the acquisition of the online advertising company failed to produce the profits that Microsoft expected when it purchased it.
Slow Growth
While Microsoft has seen some growth in its online services division, it has been far less than what would have been necessary to justify the hefty aQuantive purchase price.
"Microsoft set expectations for the growth rate of aQuantive, but since the ad agency has drastically diverted from the projected course, the write-off became necessary," Andrew Thrasher, an investment analyst with the Financial Enhancement Group, told the E-Commerce Times.
"I don't think Microsoft really knew what they were buying back in 2007," he said. "They saw Google and Yahoo making major acquisitions and didn't want to be left behind."
Microsoft lacked the technology or experience to make its foray into online ad placement a success, according to Thrasher.
"They purchased aQuantive for nearly $6 billion a month after Google bought DoubleClick for over $3 billion," he noted. "aQuantive's main focus was ad design; however, they lacked the ad placement technology or experience that DoubleClick had, which prevented Microsoft from gaining any ground against Google."
Now, Microsoft's Bing is still far behind Google.
"Based on the latest traffic analytics from comScore, Microsoft accounts for 15.4 percent of U.S. market share while Google holds 66 percent of the market," said Thrasher. "The company's bad investments and lack of innovation will keep Microsoft biting at the heels of Google."
Microsoft somehow has to address the fact that it is behind in its search and ad strategy, Internet marketing consultant Cory Jaccino told the E-Commerce Times.
"The users of search engines have shifted to Google over the past five to seven years," said Jaccino. "The problem is not that advertisers aren't using Bing. The problem is that users want Google. So, there just isn't the volume on Bing to spend the clients' ad spend."
In essence, Microsoft tried to buy its way into the search and ad space.
"You can't do that," said Jaccino. "Users decide who wins, not your wallet."
Moving Forward
What Microsoft needs to do, noted Jaccino, is to be more innovative in its approach to both search and online advertising.
Microsoft needs to "give users what they want. There is no other way. [Be] innovative and get people the information they need faster and with higher- quality results than Google," he suggested.
"The best thing they can do with their money is hire Google talent away from Google and give them the autonomy to create amazing products and services that their users will want to use," continued Jaccino. "They need to innovate in the search field or get out."
It's not all bad news for Microsoft, though.
"This loss should be just like any expense that you write off," said Jaccino. "It will lower this year's total tax burden and free up more working capital. However, it will discourage investors over the next few years. Investors have short-term memories, so this isn't the end of the world for Microsoft's share price in the long run. We'll need to see what they disclose later this month."
The company has other irons in the fire that will help its staying power, including the steady, though slow, growth of Bing and the introduction of the new Surface tablet.
"Wall Street is expecting the company to grow earnings by about 13 percent for the quarter," said Thrasher.
"Microsoft has been profitable the last eight quarters despite their Online Service division losing $2.5 billion during the 2011 fiscal year and $2.3 billion in 2010," he pointed out.
"In fact, Bing is growing, albeit at a slower pace than Microsoft would prefer. Microsoft also announced they are creating a tablet computer — a first for the software maker," Thrasher observed. "It remains to be seen whether their tablet can compete with the likes of Apple's iPad."