Microsoft on Tuesday launched a major effort to bulldoze its way into the educational computing space carved out by Google, with the introduction of a streamlined operating system called "Windows 10 S," a range of new collaborative programs for K-12 schools, and two new Surface laptops aimed at the college student market.
The Surface laptop runs on the Windows 10 S operating system, featuring an Intel Core 7th generation processor, 14.5 hours of battery life, a 13.5 inch PixelSense display, optically bonded Corning Gorilla Glass 3 and a keyboard covered in Alcantara material. The Surface is available in four colors: platinum, graphite gold, cobalt blue and burgundy. It will sell for US$999.
Microsoft has begun taking preorders for the Surface laptop, which will be available June 15 in 20 countries, including the U.S. and the UK. The Surface will be available online at the Microsoft Store and at BestBuy.com. The laptop will be available in Canada and China later this year.
Microsoft will make Windows 10 S PCs available to students and teachers starting at $189 and bundled with a free one-year subscription to Minecraft: Education Edition; Windows 10 S will be free for schools with Windows Pro PCs. It will offer a free trial of Microsoft Intune for Education, free Office 365 for Education with Microsoft Teams, and Microsoft 365 for education.
Late to the Party
Microsoft's product launch comes late in the game. Apple initially carved out a niche in education, and Google made its Chromebook devices a centerpiece of its effort to loosen Apple's grip. Microsoft appears confident there's room for one more, however, and it aims to help schools use Windows 10 and Surface to prepare students for the collaborative workforce of the future.
"We are under no illusion that technology alone is the answer to transforming education," CEO Satya Nadella told attendees at the Microsoft Education event in New York City, noting that dedicated administrators, great teachers, motivated students and involved parents are at the forefront of building a great education system. "Technology is merely a tool to empower their creativity and their ingenuity."
Terry Myerson, vice president of Microsoft's Windows and Devices Group, introduced the new operating system, which is a stripped down version of the Windows 10 OS. Applications that run on the new OS are downloaded from the Windows Store to a safe "container," and the full Office 365 suite — including Word, Excel, PowerPoint, OneNote and other apps — will be coming to the Windows Store.
Specialized lesson plans, including lessons for STEM and a full range of peripherals, such as mixed-reality headsets, will be available to work with the OS, Myerson noted.
Partners including Acer, ASUS, Dell, Fujitsu, HP, Samsung and Toshiba are offering compatible PCs, starting at $189, and they will offer a full range of touchscreen devices and peripherals, as well as Windows Ink, which can be used for on-screen note-taking.
Microsoft plans to host STEM Saturdays during the month of May, featuring pop-up STEM classrooms, at Windows Stores in the U.S., Canada, Puerto Rico and Australia.
The company also introduced a feature for Windows 10 called "View Mixed Reality," which allows users to see 3D content move from the screen into the real world as mixed reality, thanks to an RGB Camera.
Microsoft announced a partnership with Pearson, one of the world's largest educational firms, to integrate 3D and mixed reality into secondary and university education curricula.
By 2018, Pearson will feature health, commerce, history and STEM-related curricula on Windows Mixed Reality devices.
Chromebook Dominance
"This is definitely an education play," said Michael Jude, a program manager at Stratecast/Frost & Sullivan.
"Most of the features are geared towards the non-power or application specific user," he told the E-Commerce Times.
It's noteworthy that Microsoft's announcement comes three months after Google announced the Acer Chromebook Spin 11 and the Asus Chromebook C213 at the annual Bett conference, one of the world's largest educational technology conferences.
Chromebook has taken the lion's share of the K-12 education market in recent years. iPads also have been widely used, but Windows adoption as an operating system for that segment of the market has lagged.
"The Windows 10 S strategy is interesting," said Jim McGregor, a principal analyst at Tirias Research.
"It is targeted at heading off the growing threat from Chromebooks," he told the E-Commerce Times.
Chromebooks struggled early on to compete in the enterprise and consumer markets against full-fledged personal computers. They have gained traction in the education space, though, in part due to their lower cost and also due to their appeal as a mobile operating system already familiar to younger consumers. Google estimates that more than 20 million students and teachers use Chromebook.
Chromebook dominated the U.S. mobile PC market for the K-12 segment in 2016, with 58 percent of market, according to Futuresource.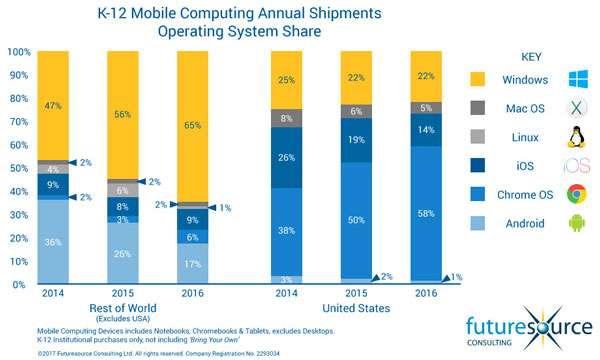 However, outside the United States, the market is far less settled, and it's still very much anyone's game.