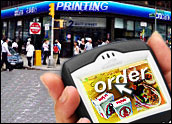 There are currently more than 270 million cellphone users in the U.S., and 82 percent of them never leave home without their devices, according to a recent study from Synovate.
With that many people walking around with mobile phones, it is time to get smart about mobile marketing efforts and engage customers via their favorite outlet.
In recent years, restaurants — especially the pizza industry — and retailers started using mobile technologies to drive sales. By simply adding an interactive SMS messaging campaign to existing marketing campaigns, they found a new way to engage with customers.
Think about it. By simply adding a mobile call to action to a print or TV ad, major corporations can reach consumers directly and offer special discounts, mobile ordering, or fun options like signing up for in-store sweepstakes.
Mobile also provides another outlet for building subscriber lists that can be used in the same way as email or direct mail lists. The bonus of mobile, though, is that it goes to the cellphone — and globally, there are twice as many users of SMS as there are active email users. Not to mention that SMS is typically read within fifteen minutes of receipt.
Like email or direct mail, mobile can be targeted based on demographic data, explicit preferences, or purchase history, resulting in notable spikes in sales.
Mobile, however, is inherently personal and can leverage location to further hone targeting. If you get a text about a super-exclusive sale at your favorite store, one that is only for repeat customers and happening only at the store where you made your last purchase — that is a hugely impactful message.
Here are a few ideas for using mobile to drive sales:
Add a mobile store locator.
You should absolutely include a store locator in your mobile plan. Customers can text into your keyword with a ZIP code to receive a text back with the address for the nearest store. This no-brainer function helps build a mobile subscriber list and creates a new way for customers to find the store nearest to them. Shoppers who are on the go don't always have access to the Internet — this is a great option to help them find you.
Set up a mobile subscription list.
Mobile subscriber lists can be used in the same way as email or direct mail lists. Customers who subscribe to the SMS messaging campaign receive alerts for events, promotions, and giveaways, keeping them in the loop on the latest happenings and sales.
Use mobile to optimize email marketing.
Recently, Pottery Barn invited me to a grand opening of its new store location via email. Now, imagine if the chain had strengthened that effort with mobile. The email blast itself could have included a mobile call to action or a text RSVP option.
As it was, it wanted me to call a number to RSVP. Had it set up a short code, I could have texted with my name and number of guests (taking a total of 30 seconds). Then, the night of the event, it could have sent me a reminder saying something similar to:
"Don't forget the exclusive shopping cocktail event tonight from 6-8pm at our new store location."
Think of how many more people a text reminder the night of the event could get into the store.
Send out mobile coupons.
In this economy, coupons are becoming more and more attractive to consumers, and mobile coupons enjoy a 5-to-15 percent conversion rate, compared to less than 1 percent for print coupons, as Mobile Marketer reported.
Consumers love special offers, and bargain shopping is the theme of these times. There is simply no better or more targeted way to deliver a coupon than to beam it directly to the object customers take with them everywhere.
The national pizza chains are taking advantage of the higher redemption rate by offering targeted mobile coupons to customers. It has really helped drive business. Many of the chains send the coupon with a built-in link to a mobile Web site to order immediately or an option to respond via text and place an order.
This brings me to my next point:
Offer SMS ordering.
Some restaurants now offer the option to text in your order. Customers can go online to register their phone numbers with these restaurants and set up favorite orders. For example, at your favorite restaurant, you could set up "ORDER1" as an order of chicken tenders with honey mustard and fries. Then text ORDER1 to the restaurant short code. Get a text back to confirm your order. Reply "Y," and you are done.
Create engaging interactive messaging.
Create messaging relevant to consumers' shopping habits. Use ZIP code verification when texting consumers to deliver a targeted message about promotions in stores nearest to them.
Two-way messaging also helps retailers extend their brands and communicate with consumers directly. This encourages loyalty and interactions between brands and customers.
Incorporate location-based services into the plan.
A location-based service (LBS) can help brands target consumers based on current location and can help the end-user with information such as "Where is the nearest Best Buy?" Obviously, this is an amazing tool to help you engage a consumer.
If you are McDonald's, why not ping that customer who's around the corner with a coupon for free fries?
Location-based campaigns are getting better everyday and are close to becoming widely available. Come up with a plan now and you'll be ahead of the game.
Have a mobile Web site.
Mobile sites are becoming a mainstream marketing tactic and an easy way to bring brands to the phones of loyal consumers. There were 56.9 million mobile Web users in July 2009, Nielsen recently reported, and that number keeps growing.
Given the depth and breadth of mobile Web usage, it seems prudent for most brands to have a mobile Web site to better and more directly reach customers. Imagine if every print or TV ad for Target had a mobile call-to-action that drove subscribers to the brand's optimized mobile site, where they could review products and shop for the best deals.
Make sure the short code is visible.
When you are building your mobile plan, don't forget — it is important to make your mobile efforts easy to find for consumers. Make sure to prominently include your keyword(s) and short code on all marketing material, advertising and Web sites. If joining a mobile list is easy and no-stress for customers, retailers will reap the benefit.
---
Matt Silk
is the SVP of
Waterfall Mobile
, a provider of digital messaging solutions.He can be reached at
[email protected]
. Read Matt's
blog
.