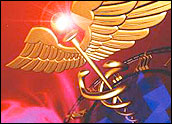 The ambitious health information technology program now under way at the U.S. Department of Defense has garnered attention from some of the major e-commerce companies in the U.S. The DoD soon will evaluate bids for its 10-year, multibillion-dollar program to enhance its health IT capability, with an emphasis on electronic health records.
DoD issued a request for proposals in late August, with a bidding deadline of Oct. 9, for the Defense Health Care Management Systems Modernization, or DHMSM, program. The program will support the medical readiness of DoD's military personnel involving the department's current population of more than 9.6 million beneficiaries and more than 153,000 Military Health System personnel.
The program will present a huge challenge to both the government and private sectors.
"Significant technology advances have happened in the last several years, with electronic health records, cloud technology and mobile apps," said Jennifer Covich Bordenick, CEO of the eHealth Initiative.
"We have learned a lot from the private sector, so this new program will be a real test to see how these private sector technologies can be applied to a large government operation," she told the E-Commerce Times.
4 Teams Enter Competition
As of mid-September, four teams of contractors said they would submit proposals to DoD. Following is a summary of the capabilities of each bidder, based on company statements.
Pricewaterhouse Cooper, General Dynamics, DSS and MedSphere: PwC earlier this month became the latest entry in the competition. Utilizing experience from the Open Source Electronic Health Record Alliance, PwC plans to combine its healthcare operational and transformation capabilities with commercial EHR vendors DSS and MedSphere, along with systems integrator General Dynamics Information Technology.
"An interoperable healthcare IT management system that leverages existing investments not only creates efficiency and significant cost savings, it promotes better health outcomes for active duty military, veterans and their families," said Scott McIntyre, PwC's U.S. public sector leader.
The team is proposing an open architecture-based integrated EHR that promotes greater ease of integration with the Defense Department's legacy systems, PwC said.
IBM, Epic, Impact Advisors: IBM in June formed a DHMSM partnership with Epic, a major player in health records IT. IBM will utilize its system integration, change management and operational expertise to deliver large-scale transformational solutions alongside a broad-range of complementary software and services providers, the company said.
Epic will add the "nation's most widely adopted, highest-rated and most scalable enterprise health IT suite," with an open architecture supporting more than 20 billion data transactions to other third-party systems each year, according to IBM.
"Our collaboration with Epic for DHMSM was a natural extension of our global partnership," said Andy Maner, managing partner, IBM U.S. Federal.
IBM in August enhanced its capabilities by adding Impact Advisors to its team. The firm assists hospitals and health systems to maximize clinical and operational performance with advisory, implementation and optimization services. It has provided consulting services to more than 140 clients.
Impact Advisors will provide its expertise with Epic offerings in the areas of clinical transformation, user engagement, project delivery, planning and staff support, IBM said.
CSC, Allscripts, HP: CSC in June said it would lead a DHMSM partnership including Allscripts and HP. As "the world's largest health systems integrator," CSC will "apply its commercial, government and global health technology experience to quickly and successfully deliver next-generation solutions that improve health outcomes," the company said.
Allscripts, with one of the largest client bases in healthcare, will provide a comprehensive, integrated and interoperable approach. The use of Allscripts' open architecture "will enable DoD to innovate care anywhere while easily maximizing the reuse of systems and data, as well as leveraging the full spectrum of future technological advancements," CSC noted.
HP will add "domain expertise" in healthcare IT, based on its significant experience with health systems in the military, the Department of Veterans Affairs, the Department of Health and Human Services, commercial healthcare organizations and state agencies, CSC said. HP performs 2.8 billion healthcare transactions a year.
Leidos, Cerner, Accenture: Considering its 25-year experience with military health IT programs, Leidos' appearance as a contender was a given. Leidos, the former SAIC, also "is one of the largest and most experienced implementers of commercial electronic health records in North America through the acquisition of Vitalize Consulting Solutions and maxIT Healthcare," spokesperson Melissa Koskovich told the E-Commerce Times.
Cerner maintained that its capabilities are well suited to DoD's goals.
"For DHMSM, DoD is seeking a partner to help modernize its healthcare system and transition to an off-the-shelf EHR solution that will allow for seamless integration of DoD, VA and private provider health data. Ours is the only team with the modern, open solution needed and the requisite experience in both commercial and government-sector EHR implementations," said Travis Dalton, vice president of investor owned and GM of federal at Cerner.
"We have already built and tested an open, secure and interoperable system that is ready to deploy worldwide to meet the DoD's needs and aggressive schedule for the program," he told the E-Commerce Times.
Cerner bolstered its overall corporate capabilities in early August with the acquisition of health IT provider Siemens Health Services for US$1.3 billion.
Accenture's experience in healthcare IT, its successful client delivery in the federal market, its recent acquisition of ASM Research, and its "continuing work on the federally facilitated marketplace make us well suited to help the DoD with this initiative" as part of the Leidos team, the firm said.
Room for More
Other contenders still could enter the competition before the proposal deadline. Some perhaps have decided to enter but have not publicly announced their intentions. However, with the companies that already have revealed their intentions to bid, DoD may have come close to exhausting the available resources.
"There are really only a handful of parties that can address the scope of the project," Scott Lundstrom, group vice president and general manager at IDC Financial, Government and Health Insights, told the E-Commerce Times.
Smaller firms also could benefit from the DHMSM program.
"Whoever wins is going to need a lot of help, as requirements in just about every technology category are at play in what will be one of the largest health IT contracts ever," said Lloyd McCoy, a federal market analyst at immixGroup.
"This business will largely benefit "niche companies who can fulfill the broad range of requirements that come along with such a comprehensive contract," he added.
While it is possible that the group winning the contract could reach out to a company in one of the competing teams for support, that scenario is unlikely.
"Each team carries within it vast experience in the realm of electronic medical records, greatly reducing the need to rely on capabilities that a major health IT company outside of that team could only provide," McCoy said.
Bidding Team Capabilities Vary
The four teams "represent realistic combinations" of capabilities, and "there are strengths and weaknesses within each of the teams," IDC's Lundstrom said.
Among notable aspects of the competing entrants is that PwC's approach is an effort to provide a "clear alternative" to the Epic/IBM team, he pointed out. "PwC is focusing on offering an open source approach based on commodity technologies."
PwC partner MedSphere bases much of its Open Vista platform on the pioneering work of the VA's VistA EHR.
"This is very different than the Epic/IBM approach where all the technology and source code are closely held and controlled by the suppliers. PwC hopes to position their offering as being more open, flexible and affordable," Lundstrom noted.
"I expect that Epic-IBM will continue to promote their proven ability to deliver and scale. Both groups will have to work harder now that we have a real horse race for this project," he added.
DoD's emphasis on an open approach presents a potential issue.
"It kind of rests on how different parties define the concept of 'open.' Being open to standards is one element, but views on handling source code can differ," Lundstrom noted.
While each of the teams presents formidable resources in healthcare IT, to some degree no group has a complete, ready-to-go, solution, he said. "This is an evolving 10-year program, and all bidders are also pitching future capabilities which involve deep technical capabilities, a global approach, and a vision of where they are taking the customer."