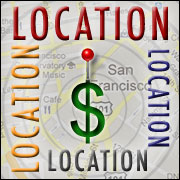 You might not care about your friend's innumerable Foursquare updates detailing his stops at a bank, a bookstore, and finally a local Italian restaurant, where he's having spaghetti and meatballs for dinner.
You can bet, however, that marketers do. After all, the more businesses know about where their potential customers are, the more they can send them highly personalized marketing messages.
"Consumers are used to seeing chalkboards touting the 'special of the day' in front of restaurants and are similarly used to picking up flyers touting discounts when they walk into a grocery store," Wilson Kerr, founder and principal consultant with Location Based Strategy, told the E-Commerce times. "Location-based mobile marketing is more personal and is delivered in the context of a device that consumers carry 16 hours a day."
Mapping the Territory
Location-based marketing relies on the increased use of smartphones and other mobile devices that track users' locations automatically. Mixing that tracking with marketing opens up many possibilities for finely tuned messages that reach consumers at precisely the right time and place — when they're in the area.
"Maps and location finders are a key component of any retail-marketing program and digital presence," Dustin Jacobson, VP of social media and technology at Barkley, told the E-Commerce Times. "In other words, once a consumer expresses an interest, how can they get there? Consumers are on the go and making decisions on the go, including in-store, and we want to make sure the process of getting to the door is as easy as possible."
Thus, a consumer walking through a city might get a text message sent with details of a sale at a nearby store, or a restaurant might know when a customer checks in on a social media site at its location and be able to greet her by name when she places her order.
Marketing or Creeping Out?
Some consumers fear that location-based marketing invades their privacy. The fact is, though, businesses don't know where you are unless you tell them.
"The Mobile Marketing Association has done a good job at setting the ground rules for all that are designed to soothe and educate the public," noted Kerr.
"The worst thing that can happen to the mobile marketing industry is to have consumers creeped out by the fact that their phone is transmitting their real-time location. The three holy grails of LBS mobile marketing are 1) opt-in, 2) opt-in, 3) opt-in," he stressed.
"If you don't want people to know where you are, don't tell them," concurred Nate Riggs, president of the consulting firm Social Business Strategies.
"Privacy comes down to personal choice, not what the technology allows you to do," he told the E-Commerce Times.
Besides, concerns about privacy and anonymity might fade with the offer of a few good deals.
"As consumers increasingly warm to the notion that their smartphones are location-enabled, I predict they will start to see the value of offers and deals delivered based on their ability to cash in," said Jacobsen. "Just as people call to request catalogs or are thankful when they are reminded that they need an oil change or their teeth cleaned, mobile marketing can deliver ads people want to see, when they want to see them."
Putting LBS in Its place
All the location-based marketing in the world doesn't mean a thing if it doesn't drive foot traffic, and this is one of the Riggs' criticisms of location-based strategies.
"We've not yet seen a lot of consistency in driving foot traffic," he said. "You really need to use it to identify people who are using your business. To make location-based marketing work, you have to have foot traffic."
Location-based strategies work especially well for retail outlets that have local customers, since locations are, almost by definition, local, observed Riggs.
"I think it's going to take off at the local level," he said. "We're seeing a lot of small businesses picking it up."
Eventually, however, some of these small businesses will become large ones, Riggs pointed out, and their early experiences with location-based marketing will help shape new, more powerful strategies on a national or even global scale.
"Things like location-based marketing will have been ingrained in these new companies," said Riggs.
In order to be even more effective, the "location" part of "location-based" needs to evolve so that a person's place can be pinpointed with more accuracy, he suggested. "We need to develop a technology that not only tells us where you are on a map, but what floor in a building you're on."
In the meantime, businesses looking to sell their products and brands to consumers will likely find there's a wide open field out there, ready for whatever strategies they might come up with.
"I know when I walk out of Fenway Park after watching the Red Sox win, I would welcome an ad from a bar a block ahead that wants to get me in the door by selling me a $2 pitcher of cold beer," said Kerr. "Opt me in for that."