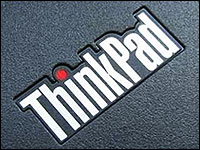 ThinkPad is a solid brand. So why is Lenovo suddenly screwing up its brand relationship with customers? We all have our favorites. That's the power of successfully building a brand. However, in an effort to grow, Lenovo is making a costly mistake. Rather than creating a distinct new sub-brand category, it is spreading the existing ThinkPad brand too thin, confusing the customer. That's a recipe for disaster.
A strong brand relationship between the company, the product and the customer is key to long-term success and growth. In fact, that has been the hallmark of the successful ThinkPad brand all along. However, Lenovo is now weakening that brand with its current activity.
Don't get me wrong, I like and have used the ThinkPad line of laptops for decades. However my brand relationship is weakening as a result of what Lenovo is doing, and I have heard the same thing from countless others.
When IBM owned ThinkPad, it stuck to building a simple and solid brand. If customers stuck with a particular line of ThinkPads, they always knew what they were getting, and they loved that. Now they must waste time getting to know a new system.
Lenovo seems to be taking the ThinkPad on a different path. This will hurt its relationships with its customers. So now is the time to correct this issue before it becomes a problem.
Shattered Expectations
Customers loved simply buying a new ThinkPad and having a zero learning curve. New ThinkPads were as familiar as previous ones in the same line. Customers stick to a particular brand because they want to get straight to work. Now, though, that's changing. Today only some of the T series are the same, while others are very different. It's getting confusing even sticking with the same model.
Example: I currently own a T430i, which is a more traditional T Series laptop. I have been buying ThinkPad's T Series for two decades. Sure, there were always changes — like a new port here or taking away an old jack there — but the keyboard, the light and everything else were familiar. Because I could get right to work, that comfort level kept me buying the T Series for 20 years.
That's much of what building a brand identity means. Customers don't want to waste time learning a new keyboard and feature list. Learning the new version of Windows is annoying enough, and that is Microsoft's fault. Customers simply want the next computer to work, so they can get back to work.
Last week, I purchased a new T430u, which is Lenovo's Ultrabook. Since the model number was T430, and the Windows version was the same on both machines, I expected the experience to be exactly the same. I expected both computers to look and work exactly the same. After all, this was the ThinkPad T430 brand. That's why I bought the same unit.
However, it turns out they're two completely different laptops with the same name. Neither is bad — they're just different. Lenovo's mistake was calling them both "T430." That causes confusion. That is hurting the ThinkPad brand value.
Wanted: Same Old
These two laptops, while both terrific, should have been called two different model names and branded differently. The reason is they are different. Had I known the differences, I would have chosen something else. That's the first time I've had that impression in all the years I have been a ThinkPad customer.
The new Ultrabook is very different from the traditional T430 — not what I expected. I have heard this from many others who were looking for a familiar unit. They had expectations, just like every customer has. They thought buying a familiar T Series computer would be the same as always. Suddenly it was not.
One, there is no light at the top of the screen to illuminate the keyboard in the dark, so you have to have a light overhead to see what you are doing.
Two, the keyboard has a different layout. There are different and fewer buttons and keys in the T430u. If you want to turn up the volume or the screen backlight, it is easy on the T430i. There are extra buttons that are easy to find and use. However, on the T430u there are no such buttons. Instead you must find and press multiple Function keys. They are very difficult to see in low light.
Three, the keys are in different locations on the keyboard. That means you will regularly delete something and then have to try and find and restore it.
I have struggled with all this and more and have only owned the computer for a few days. That wastes time and creates aggravation. That's why I purchased the same model number. I wanted to avoid all this.
I could always count on the ThinkPad T series brand — until now, that is.
Idea: Lenovo has more than one Ultrabook on the market. So why doesn't it group them under a new Ultrabook brand, rather than diluting the value of the existing T Series brand?
Lenovo, we still love you, so don't blow it. It takes years to build a strong brand relationship, but only a moment to destroy it. This is your moment. Do the right thing. It would be a shame to lose happy customers worldwide due to a self-inflicted injury.