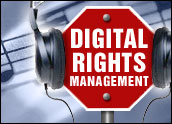 Hacking the technological protections built into copyrighted digital material in order to view or use the content does not necessarily contravene the provisions of the Digital Millennium Copyright Act (DMCA), the Fifth Circuit Court in New Orleans ruled on Friday.
The move could send shock waves through the music, TV and movie industries, as well as companies in the business of digital protection.
The court handed down its ruling in a lawsuit MGE UPS Systems brought against General Electric.
Essentially, it appears to state that it's OK to circumvent digital protections, also known as DRM (digital rights management), so long as one doesn't pirate the material.
Looking's Free
In his ruling, Judge Emilio Garza of the New Orleans 5th District Court said the DMCA's provision against circumvention of digital protection does not apply unless a complainant can show a link between someone accessing content and the protection of the copyrighted work.
"The owner's technological measures must protect the copyrighted material against an infringement of a right that the Copyright Act protects, and not from mere use or viewing," the judge wrote.
Section 1201 of the DMCA "implements the obligation to provide adequate and effective protection against circumvention of technological measures used by copyright owners to protect their works," the DMCA reads.
It divides technological measures into two categories. One includes measures that prevent unauthorized access to a copyrighted work. The other includes measures that prevent unauthorized copying of a copyrighted work.
The DMCA prohibits circumventing the first category of technological measures, but not the second, as copying of work may be a fair use under appropriate circumstances.
Where It All Began
MGE's lawsuit followed an earlier one against GE over hacked MGE applications.
The company makes uninterruptible power supply machines and sells copyrighted software applications to service them. These applications are digitally locked. They have to be unlocked with an external hardware security key called a "dongle." Hackers reportedly posted information online on how to crack the dongles. Cracking a dongle lets people freely use and copy the MGE apps.
Technicians at a company called "Power Maintenance International" used MGE software to service MGE UPS machines. PMI was purchased by GE in 2001.
MGE's first lawsuit, filed against GE and PMI, claimed that some PMI employees had at least one copy of software obtained from a hacked machine and that GE had used the software more than 400 times between 2000 and 2002 despite being barred from doing so by a judge. That lawsuit included charges brought under the DMCA.
MGE won that lawsuit, being awarded more than US$4.6 million in damages for copyright infringement and misappropriation of trade secrets. However, the trial judge dismissed its claims under the DMCA.
MGE appealed the dismissal of its DMCA claims. Its argument was that its dongles barred the kind of access to its software that the DMCA is meant to prevent.
In his ruling, Judge Garza wrote that MGE advanced too broad a definition of the term 'access.'
The Horror, the Horror
Judge Garza's ruling may lead to a fresh spate of trials and appeals, perhaps the most notable of which could be the legal battle RealNetworks lost several months ago against Hollywood. Several major movie studios filed suit against RealNetworks over two products: RealDVD copying software and a hardware prototype that would rip DVDs directly to a user's hard drive and host them as a media server.
RealNetworks had to kill the products after Judge Marilyn Patel ruled against it.
Judge Garza's ruling may indicate that it's OK to strip digital protection from content as long as the content isn't being pirated.
"We believe the court's decision is inconsistent with the plain language of the DMCA's anti-circumvention provisions," Elizabeth Kaltman, a spokesperson for the Motion Picture Association of America, told the E-Commerce Times.
Meanwhile, the Recording Industry Association of America, which has gained notoriety in the past for launching lawsuits against consumers who share copyrighted music on the Internet, is lying low for now.
"I think we will pass on commenting for now," RIAA spokesperson Jonathan Lamy told the E-Commerce Times.
Onward and Upward
Why the concern? After all, the DMCA makes it quite clear that you can copy a copyrighted work as long as you don't try to make money off it.
The concern may be that providers of content might lose out on potential income.
"Content companies may want to pursue something like this because they need to combat internal leakage, and things like people walking into theaters with video cameras and recording a movie to make and sell illegal DVDs," Michael McGuire, a vice president of research at Gartner, told the E-Commerce Times.
However, there may already be solutions to the problem of illegal access.
"Companies that offer content will likely use things like the end-user licensing agreements you see in software programs to restrict what buyers of content can and cannot do," McGuire said.
"The larger question is, will we see content companies work with providers like iTunes, Netflix, Amazon and Google to create the kind of content delivery options consumers will use so they won't think about contravening the DMCA?" McGuire added. "Consumers may not want to view content only on the medium the providers dictate, such as their computers," he explained. "They may want to move it to their smartphone or other device they feel more comfortable with.
"Why not make it easier for consumers to get content instead of relying solely on DRM technologies?" McGuire asked.